Soundsight Headphones is reader-supported. When you buy through links on our site, we may earn an affiliate commission.
Suppose Sony's WF-SP700N hasn't impressed you enough to call them your favorite true wireless earbuds. In that case, you'll be thrilled to know about their successor, WF-SP800N: An updated version of Sony's sports headphones, which debuted in 2018. WF-SP800N is Sony's new wireless headphones for active people and sports enthusiasts, with active noise canceling (ANC) and excellent sound quality.
The Japanese company is famous for its quality products. One example of this is the WF-1000XM3 model. The headphones have excellent sound quality, microphones, active noise cancellation, and practically no drawbacks. However, even Sony has failed products – for example, the WF-SP700N headphones, the previous model from the line that has been replaced by Sony WF-SP800N. The gadget has a weak battery, and noise cancellation does not work well.
Sony WF-SP800N True Wireless Sport Earbuds Review
WF-SP800N Specifications
Type: True Wireless Earbuds with ANC | Bluetooth: 5.0 | Battery: 9 Hours (18 Hours with charging case) | Charging-time: 2.5 Hours | Drivers: Dynamic | Drivers-Size: 6 mm | Frequency Response: 20 Hz–20,000 Hz | Weight: 9.8g | Water protection: IP55
Sony WF-SP800 Overview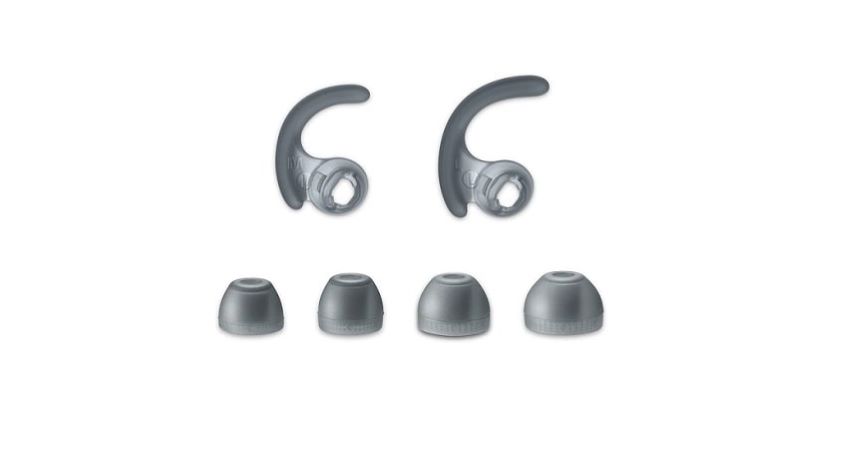 Package
The package includes the charging case, a USB-C cable, 4 pairs of hybrid silicone rubber ear tips, and two pair of hooks. The supplied battery case charges via USB-C, which I love, and adds another 9 hours of ANC use to the headphone's own 9 hours of battery life. The Japanese' true wireless headphones Sony WF-SP800N are available in three colors: blue, white, and black
Design & Ergonomy
The Sony WF-SP800N headphones have the same design used to see on other models such as WF-1000XM3 – they have an oblong body that protrudes slightly from the ear.
The company departed from the strange shape in the form of earbuds that WF-SP700N had, but headphones are still larger than most modern counterparts.
They are quite heavy also – each weighing 9.5 grams, which is 1 gram more than the XM3 and almost twice the Jabra Elite 75t. Nevertheless, this weight does not seem uncomfortable, and thanks to the convenient silicone tips, they do not fall out of the ears.
Due to the size and attachments, the case has also become larger. However, it is smaller than the case of WF-SP700N. Even though Sony worked on reducing the size of the charging case, it still doesn't fit into every pocket, making them more inconvenient to transport.
Unlike other true wireless headphones like AirPods Pro, Sony WF-SP800N cannot be charged wirelessly - only via a USB-C cable. Similarly to most premium wireless headphones, audio playback on the WF-SP800N stops when you remove the earbud from your ear.
The IP55 certification (no certification for the WF-1000XM3) is a big plus because it implies resistance to water splashes and a small rinse under a weak jet.
In use, the only problem comes from the in-ear nature of the product, which is more tiring than earbuds. Besides, thanks to a good grip on the ears, whether you use the WF-SP800N as usual or for a sports session, the true wireless earbuds enjoy an almost irreproachable hold.
For sports use, WF-SP800N comes with four sets of silicone ear tips to find the right fit in your ears and improve noise reduction.
The ear tips are accompanied by two sets of stabilizers to reinforce the support. These small hooks ensure that your headphones don't fall when you run.
SP800N headphones are rather comfortable to wear, and their design is not particularly bothering in any way. They're not as discreet and minimalist as other sport true wireless earbuds, but fear not, they look amazing when plugged in your ears.
As with WF-1000XM3, the controls of Sony WF-SP800N take place through touch presses on certain areas of the headphones. Your inputs are read accurately.
Though, in the beginning, you will have to get used to looking for specific areas, rather than just touching any part. Many people prefer the physical keys, as in the Jabra Elite 75t, although Sony's controls are very well implemented.
By default, you can play/stop the music using touch taps, switch songs, answer or reject phone calls, turn on noise cancellation, and call the voice assistant.
The commands can also be configured through the application – for example, one of the listed actions can be reassigned to change the volume.
Pressing and holding will launch your phone's voice assistant, Siri, or Google Assistant. There is no way to control the volume with headphones out of the box, but you can customize the headphones app's controls, including assigning the volume to one or both of the headphones.
During a call, the sound is clear enough seems as if a person is speaking directly through a smartphone. For wireless in-ear headphones, this is very rare – usually, you have to sacrifice clarity when making calls.
Bluetooth & Technology
The Sony WF-SP800N wireless in-ear headphones announced this year (2020) offer an autonomy of 18 hours of listening (charging of the case included). Its 10-minute quick charge provides up to 60 minutes of listening with noise reduction. The WF-SP700N Bluetooth 4.1 standard is here replaced by a 5.0 wireless connection, with support for the AAC codec.
As remarked by fans of Sony headphones, the autonomy promised by the WF-SP800N is significantly greater than that delivered by their predecessors, Sony WF-SP700N.
Sony WF-SP800N offers no less than 9 hours of use with a single charge, active noise cancelation (ANC) engaged, and 13 hours without ANC function in music listening. For comparison, the previous model did not exceed 2 h 50 min of autonomy with ANC.
Regarding the Active Noise Cancelation component, Sony updated the noise-canceling feature to automatically adjust settings based on your location. The company has already offered this feature in its phone app.
The WF-SP800N and other noise-canceling Sony headphones are currently offering their users the ability to use Adaptive Sound Control, which supports Standby, Walk, Run or Travel modes that are automatically activated as soon as the device determines the corresponding movement. You can manually change these settings if necessary. Thanks to another update, you can assign certain locations in which these modes will be activated by default.
Sony WF-SP800N TWS headphones feature sensors that automatically pause music playback when the earbud is removed and resume when plugged back in the ear.
There is also a feature in the Headphones app that allows you to register specific locations and automatically change headphone settings such as ANC and EQ profile when you are there. For example, at home, you may have maximum noise reduction to drown out your family; When you're in the park, you can automatically turn on Ambient Mode for some situational awareness.
If the key to achieving your work or training goals is a powerful, punchy, and deep sound, Sony's proprietary application Headphones Connect allows you to customize your sound experience via EQ.
So far, The WF-SP800N relies heavily on Sony's Headphones Connect app, which allows full customization of the earbuds. It is used in particular to facilitate the Bluetooth connection, but also to access the sound mode and equalization settings, modify the bass, activate or deactivate noise reduction and ambient mode and much more! It is possible to customize the touch functions, which is very useful since they do not control the sound volume by default.
Noise Cancelling
Sony deserves credit for its Active Noise Cancellation (ANC) quality – the company has contributed to its adoption like no other. And while the WF-SP800N doesn't have such a powerful chipset for this function as the WF-1000XM3, it's safe to say that noise cancellation here is excellent.
Almost any noise is blocked without problems, be it the hum of passing cars or the sounds of a working vacuum cleaner. During a run, the wind blowing into the microphones can be mistaken by the headphones as noise that needs to be drowned out.
Additionally, the sound is isolated naturally due to the nozzles, so the ANC function does not even need to be turned on in rooms. Despite some wind issues with the noise canceling function, the Sony WF-SP800N handles calls just fine.
Sound Quality
One of Sony's first ambitions with the Sony WF-SP800N was to recreate the noise reduction system's excellence that can be found on the Sony WF-1000XM3 into sport-oriented TWS headphones.
Sony's QN1e processor is clearly missing, which is one of the real strengths of the brand's high-end; thus, the noise reduction system is not as efficient as one would have hoped, and the sound quality also appears a bit downgraded. So what exactly changed?
The WF-SP800N is equipped with two 6mm dynamic neodymium drivers and is branded Extra-Bass. Sony has not disclosed further details on the frequency response or other technical specifications for the WF-SP800N.
Sony WF-SP800N is an ExtraBass model, which means that these headphones' bass response is accentuated, but without being overdone. The sound is clearly not as refined, but the level of detail is particularly appealing for true wireless. Above all, the WF-SP800N headphones are rather efficient compared to models in the same price range.
Conclusion
There are several key differences between the WF-1000XM3 and these Sony WF-SP800N earbuds. Sony's more expensive set uses the flagship QN1e noise-canceling processor with two microphones on each side. In contrast, the cheaper WF-SP800N uses a simpler ANC processor, with one microphone per earbud.
In terms of audio features, the WF-1000XM3 also supports Sony DSEE HX audio processing, and the SP800N supports Sony Extra Bass. However, the cheaper earbuds are IP55 rated for water and dust resistance, while the Arc Supporter earloop should help them stay in place while you do your strenuous activities.
While the WF-1000XM3 are considered among the best high-end true wireless headphones, the WF-SP800N from Sony is a model for athletes, hence the initials "SP," which stand for "Sport," that uses similar adapted characteristics as WF-1000XM3.
At less than $200, don't expect to grab all the highlights of Sony's flagship true wireless earbuds. The SP800N trades off some features while relying on common strengths: excellent sound quality, battery life, an ultra-stable connection, and the added water-resistance to sweat, splash, and wash, which is deemed crucial for sports activities.