Soundsight Headphones is reader-supported. When you buy through links on our site, we may earn an affiliate commission.
As one of the longest-standing producers of top-quality headphones, the German manufacturer Beyerdynamic has earned a sterling name among audiophiles and gamers worldwide. The Beyerdynamic MMX gaming headset based on the highly acclaimed HS 400 SIGNUM aircraft headset design, makes way for the arrival of its second-generation model, the Beyerdynamic MMX 300 2nd Gen.
Beyerdynamic's MMX 300 2nd Generation was developed in an attempt to offer players a gaming headset that would satisfy the most stringent acoustic demands, Could this be the audiophile gamer's ultimate fantasy?
Beyerdynamic MMX 300 (2017) (2nd Gen) Gaming Headset Review
Beyerdynamic MMX 300 (2nd Gen) Specifications
Type: Closed-back Over-ear Gaming Headset | Drivers: Dynamic | Drivers-size: 50 mm | Impedance: 32 Ohms | Frequency Response: 5 Hz – 35,000 Hz | Microphone Frequency Range: 30 Hz – 18,000 Hz | Weight: 10.4 ounces (294 g)
Pros
Excellent surround sound and stereophony
Beatufiul & reliable craftsmanship
Clear-cut microphone
Compatible with multiple gaming platforms
Cons
Expensive for regular gaming users
Beyerdynamic MMX 300 (2nd Gen) Overview
These headphones genuinely enhance your ability both to play games. MMX 300 provides a super-comfortable fit that adapts to a wide range of morphologies and may be worn comfortably over the course of many hours.
The MMX 300 (2nd gen) from Beyerdynamic exhibits an incredible quantity of clarity and sonic fluidity even when the mid-range frequencies emerge from the thundering drums, listening to music is a joy as the balanced nature of the sound, along with a richness of sound that is otherwise difficult to reproduce
Package
Two removable cables are supplied along with the MMX 300: A 1.2m cable with 4 pin mini-jack and a longer 2.5m cable that ends in two independent 3 pin jacks.
The second cable is for PCs, whereas the former is ideal for connecting to popular gaming consoles (PS4, Xbox One, Switch) as well as to various other mobile devices. There's a remote control with one button on the short cable, so you can play, pause, and respond to incoming phone calls.
One of the cables ends with a pair of 3.5 mm, TRS plugs, and is fitted to connect on PCs.
The other cable terminates with a couple of 3.5 mm TRRS plug connectors with a controller designed to operate with mobile consoles and other devices. As a result, Beyerdynamic MMX 300 is a fully analog headset at its best.
Ergonomy
MMX 300.2 isn't an ordinary set of gaming headphones, but rather a top-quality gaming headset with a built-in microphone. The whole device is entirely crafted with a convincing, dark color, a sight that can be considered an aesthetic understatement.
As a matter of fact, MMX 300 second generation is a genuine Hi-Fi headset featuring a built-in and proven microphone that has been tested extensively.
It has a durable metal headband with a soft, leather-covered lining. Adjustable, the headband allows the headset to fit every head shape: large and small.
Featuring a sleek, matte black design and forms reminiscent of the Beyerdynamic headphones' design, virtually everyone who has ever donned any of the German manufacturer's DT Series headphones will experience a perfectly familiar feel upon mounting this gaming-dedicated headset.
MMX 300 provides a super-comfortable fit that adapts to a wide range of morphologies and may be worn comfortably over the course of many hours without suffering the slightest inconvenience.
Its velvet earpads remove effortlessly and can be replaced as Beyerdynamic offers them for purchase as replacement parts. Likewise, the cushion on the headband, leatherette-covered, and fixed using a standard Velcro strap can also be replaced.
As promised, the second generation MMX 300's craftsmanship quality and convenience prove to be second to none. You can continuously wear the headset for up to several hours unhindered, while metal and durable plastic render these gaming headsets great resistance to wear and tear.
Sound Quality
The overall sonic performance delivered by Beyerdynamic's headsets remains awe-inspiring. With a frequency response of 5 Hz-35 kHz, the MMX 300.2 has a sound quality that exceeds the range of human hearing. It basically translates into the fact that it can reproduce music in any wavelength that our ears can perceive.
After testing the MMX 300.2 headset on several occasions by playing various types of tracks, we have ensured that the MMX 300.2 headphones can play a broad spectrum of musical genres with success.
For the most part, what I appreciated most was the attention given to entertainment music listening. By entertainment, I am talking about powerfully pumped-up bass.
Part of the strength of the MMX 300 comes from the fact that it doesn't seek to overwhelm with an excessive quantity of basses, but rather to convey insightful auditory experiences so that the listener gets plenty of valuable insights.
The headphones became a true companion in all games as they provide a truly unique sensation of spaciousness and loudness. They place various elements in space with a surprising level of accuracy and finesse.
Music-wise, it is similar: comprehensive, detailed, responsive yet not overpowering low-end, with sharp overtones in the upper range and a slightly prominent mid-range.
Listening to music is a joy as the balanced nature of the sound, along with a richness of sound that is otherwise difficult to reproduce, have made the MMX 300 a ravenous headset, one that can communicate excitement in a reliable and lively fashion, through its sheer detail and intensity.
Gaming
Playing performance – particularly when playing competitive online video multiplayer games that demand you to have a strong sense of understanding and be able to accurately pinpoint the location of everyone around you – is what the second generation of Beyerdynamic MMX 300 stands for.
They are designed to achieve an impressive level of detail and crisp clarity across the middle frequencies in the upper midrange and well below 4 kHz with flawless surround sound scenery, leaving your opponents no way of sneaking up on you unnoticed.
The 2nd generation MMX 300 performs wonderfully when it comes to powering you to rule in CS: GO, Fortnite, or PUBG. Add to that the amount of sound response delivered by these headphones, and the result you get is amazing.
The MMX 300 (2nd gen) from Beyerdynamic exhibits an incredible quantity of clarity and sonic fluidity even when the mid-range frequencies emerge from the thundering drums.
Simultaneously, voices can be heard clearly and reproduce rugged, heavy metal sounds effortlessly. This gives the MX 300 (2. Generation) a depth and openness that no other gaming headset apparently can offer.
The low-frequency bass plays entertainingly, whether you play games or just listening to music. Both the medium range as well as higher frequencies, feel great. Jazz and classical music is also a real pleasure to be listening to.
Regarding sound in video games, at the moment, the MMX300 (2. Generation) leads the way in our selection. Shots feel lifelike and authentic, thanks to a touch of realism and detail with unparalleled clarity.
In various popular First Person Shooter games, finding out precisely the enemy's location was achieved with precision, most notably in PUBG, Overwatch, and Destiny 2. Enabling you to concentrate more effectively on the sound.
Regardless of your opponent crawls, walks in small steps, or rushes towards you, the second generation of MMX 300 will reveal the finest nuances of detail impossible to hear with ordinary gaming headsets. Combat advantage, and eventually winning the game is assured.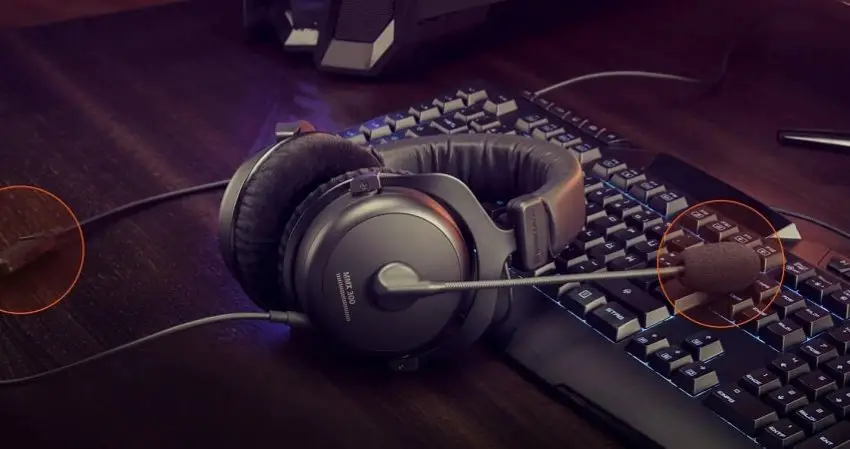 Microphone
As stated at the outset of this article, Beyerdynamic MMX300 includes a gooseneck non-detachable and non-retractable microphone.
Nevertheless, thanks to the swivel to which it is attached, you can position it in front of your mouth, all the more so since its malleability is ideal.
When it comes to voice recording, the voice capture provided by this microphone goes beyond anything else. The timbre of the voice is reproduced in a very realistic way, but it is also extremely directional, meaning that practically no background sounds affect the microphone's intelligibility.
Best of all, its built-in wind protection effectively prevents breathing noise and wind noise, thus reducing noise levels to a manageable level and making the microphone absolutely flawless.
The microphone's rather sensitive nature ensures that playing companions always understand you clearly and loud, regardless of whether you have amplification turned on.
Playing video games, there is always a strong reliance on collaboration and teamwork. It is only with proper strategy, the right pace, and intelligible communication that winning can be achieved by a team of pro gamers.
Thanks to the premium quality condenser microphone, which the MMX 300.2 has been designed with, speeches are conveyed with the greatest degree of accuracy possible.
Note carefully that the high voice quality of the microphone is also what is used by Beyerdynamic as an official explanation behind the major price gap that exists between a $200 DT 770 Pro headset and the second-generation gaming headset MMX 300.
Conclusion
The second-generation MMX 300 gaming headset is worthy of the name of a professional gaming device. These headphones genuinely enhance your ability both to play games as well as to win and excel.
It offers a great feeling of involvement in the gaming world due to high-quality imaging of the audio sources together with proper sound isolation. Its acoustic signature appears to be very bright and well defined. Even though this may not be optimal when playing particular musical genres
Its clarity and depth of detail, particularly in the trebles, have proven to excel in a game where it is important to have a clear idea of where the enemy may be moving toward or firing upon.
Moreover, when fighting as a team, you cannot afford flaws in your microphone – according to the people I've talked to, the voice transmission has more than satisfying quality.
Designed for serious gamers, professional streamers, and the sophisticated gamers of online games, these gaming headsets from Beyerdynamic are the perfect solution for players willing and capable of investing a vast fortune to gain a huge competitive edge.
Pros
Excellent surround sound and stereophony
Beatufiul & reliable craftsmanship
Clear-cut microphone
Compatible with multiple gaming platforms
Cons
Rather expensive for regular gaming users