Gaming headsets are the hottest peripheral accessories for gaming on the market today. This popular gadget has been on a rapid increase in popularity because people have been able to experience a more immersive experience when playing certain games or watching movies on their laptops or computer screens. This Chapter explors different kinds of gaming headsets and give some insights into how they're used and what advantage they have in gaming.
In Chapter 1, we introduced gaming audio setups, reviewed some of the best gaming headsets, their pros and cons, methods for maximizing the sound quality of your headset, and answered some frequently asked questions about gaming headsets and how to get the best from them.
In Chapter 2, we will introduce you to the different types of gaming headsets and headphones you can use for gaming, their main features, differences, advantages and disadvantages. We'll also look at the best gaming headsets for each type of headset.
And don't forget to share this guide with your friends who might be interested in making the right decision when buying their best gaming headset.
Various Types of Gaming Headsets & Their Purpose
The traditional range of gaming headsets that you used to see in the supermarket, local store, or the cheap no-name gaming headsets have been replaced by various types of gaming headsets or headphones better suited for gaming, some of which you won't believe what a delightful experience they can provide compared to the regular headsets advertised and recommended by various journalists and YouTube reviewers.
Modern gaming headsets allow you to enjoy your game to its fullest. Immerse you into the game, reveal insightful auditory information to give you a competitive edge, and be able to communicate with your team or enjoy conversation with people on Discord or TeamSpeak.
Here you will learn how to choose the type of headset that best suits your needs. There are eight options to choose from:
Multi-platform Headsets
Wired vs. Wireless
Open vs. Closed Gaming Headsets
USB Gaming Headsets
Planar Magnetic Gaming Headsets
Hi-Fi Gaming Headsets
VR Headset for PC Gaming
VR Headset for Smartphones
Btw, we left the surround sound headsets for another article!
Multiplatform Gaming Headsets – Headphones Designed to Work on Multiple Gaming Consoles
The ability of a headset to be used on multiple gaming consoles is an essential feature of a gaming headset. While many gaming consoles provide more connectivity options and allow you to use any headset with a 3.5mm jack, some older console versions do not support certain connections.
Most wired gaming headsets are compatible with specific gaming platforms as long as they offer the ability to connect with a 3.5mm headphone jack, such as the Xbox One, PS4, and the new PS5, which has a 3.5mm audio jack for any headset.
On the other hand, gaming consoles have not always provided an option to connect an analog gaming headset to the console. The Nintendo Switch may have a 3.5mm jack, but some controllers don't. The same can be said of gaming consoles; for example, the PS3 doesn't have a 3.5mm audio jack while any Bluetooth headset could connect.
As far as the PlayStation game console is concerned, things changed with the release of the PS4, which, unlike the PS3, no longer supports Bluetooth but a proprietary PS4 Bluetooth technology that only works with Bluetooth gaming headsets designed to work with the PS4.
With newer gaming consoles, problems arise when you want to connect a Bluetooth headset that is not compatible with the proprietary wireless technology of the Xbox and PlayStation. In this case, your Bluetooth headset can only connect via a cable or Bluetooth transmitter.
That's where a multi-platform gaming headset comes in handy. It allows you to use the same headset for multiple gaming platforms and doesn't limit your options. Cross-platform headsets are compatible with many devices, such as mobiles, laptops, tablets, PCs, Macs, and even consoles like PlayStation 3, PS4, PS5, the Xbox One S/One X, Nintendo Switch, and others.
Who Can Benefit From Multiplatform Gaming Headsets?
Multiplatform Gaming Headsets are ideal for playing different types of games on different platforms (console, PC, mobile, PS5). Most gamers only use their PC or mobile devices to play games. However, it might be useful to note that some games require an Xbox controller for PC and/or a PlayStation controller for mobile devices.
You will need a multiplatform gaming headset to connect and use consoles like the Xbox One or PlayStation 4.
A Few More Things You Should Know About Multi-platform Gaming Headsets:
Some gaming headsets are compatible with a broader range of platforms than others
Not all multi-platform gaming headsets provide compatibility with ALL platforms. Some will only work on two or three platforms, for example, Steelseries Arctis 7P, which works with PS3, PS4, PS5, PC, Android, and Nintendo Switch but doesn't work with Xbox One or Xbox Series X | S.
Check the manufacturer before buying. We've already mentioned some of the brands above, but you can search for all major brands on this page to make sure you know which one to use.
Not all gaming headsets are created equal. They may offer features depending on the platform.
Take the SteelSeries Arctis 7 and Arctis 7P as an example. While both are compatible with PlayStation, the headset designed specifically for the PS gaming console has features that work with the PS4, while the standard wireless version does not. The Arctis 7P offers surround sound and ChatMix features on PS4, while the wireless Arctis 7 offers DTS Headphone:X Surround, SteelSeries Engine 3, and ChatMix on PC and Mac (not the DTS surround sound though)
What are The Best Gaming Headsets That Work Across Various Gaming Consoles?
The multi-platform headsets we love the most and consider to be the best multiplatform gaming headsets include:
Audeze Penrose (for PlayStation platforms) or Audeze Penrose X (for Xbox One, Xbox Series X and S)
Audeze Penrose headphones are premium wireless gaming headphones designed for multiple gaming consoles with 100mm audiophile-grade drivers. Penrose headsets do not have Nx technology for head-tracking, and 3D surround sound capabilities. However, they now have a Bluetooth module for lower latency (~15-20ms) for console gaming. The Audeze HQ app (available for Windows, Mac OS X, and Android) is still here and helps fine-tune your headset with a handy 10-band equalizer to ensure you get the best sound regardless of game or song you're playing.
Portable and discreet, this headset offers three connectivity options and works perfectly on PC, Mac, PlayStation, and smartphones via Bluetooth, a 3.5 mm audio cable, or a USB dongle. For pairing with the Xbox, the manufacturer has created a separate model called Penrose X. Moreover, while the headset has an overall low latency when used on PC, there are times when it reaches 200-250 ms, but this is not a regular phenomenon to worry about. For communicating and chatting via voice chat, the Penrose cross-platform gaming headset has a detachable boom mic with good quality and headphone & mic volume controls . It causes no complaints in Overwatch or Rainbow Six Siege.
The headset isn't heavy because it uses plastic for its construction to compensate for the planar magnetic drivers, which, unlike other planar gaming headsets, offer immersive sound with energetic bass and slightly more accentuated mid-bass when playing games or movies. The result is amazing and makes the rumble of explosions, gunfire, and other sounds sound much more intense than planar gaming headsets. Footsteps, on the other hand, are not as prominent as one would like.
For games and music, Audeze Penrose plays with a lot of detail and properly accentuates all the instruments and musical notes without confusing you about where everything is coming from, offering good positional accuracy. In addition, the headset provides a good soundstage that isn't as thorough as most open-back headsets but is still wide enough to feel immersed in what you're doing. Compared to other multi-platform wireless gaming headsets, the Audeze Penrose is a serious upgrade that the gaming community has waited for.
Drop + Sennheiser PC38X
With no bells and whistles, the PC 38X doesn't offer surround sound or wireless connectivity, or a USB adapter. Instead, this gaming headset is based on a wired design with a wide frequency response range (10Hz to 30kHz) and offers compatibility with devices that support 3.5mm jacks such as Xbox One, Xbox Series X|S, Sony PS4 & PS5, PC, Mac, and mobile devices.
The headset comes with two detachable cables, two pairs of earpieces, one of which is velvet, and a travel pouch. The microphone boom is not detachable but does not weigh on the headset either (253 grams). It also doesn't offer any equalizer settings to adapt the sound profile to your needs. However, if you can live with these limitations, the PC 38X is still a powerful headset for cross-platform gaming.
Compared to its predecessor, the PC37X, the new PC38X has a warmer sound and better sound quality for gaming. It's nothing like ordinary gaming headsets, which tend to overload the bass and pay little attention to sound accuracy. The PX38X isn't perfect either; vocals seem to be pushed behind instruments in some cases, which only affects the quality of music listening.
For gaming, the Sennheiser PC38X cross-platform headset offers an extensive soundstage for a closed-back headset and a smooth, transparent sound signature that doesn't throw you off. Its sound profile resembles the HD650, which says a lot about the PC38X's ability to deliver good sound without sacrificing too much low end. However, it still lacks a sense of positioning, which is not conducive to games that require positional cues. We don't think this is a problem for casual gamers. Competitive professional players, on the other hand, will have to look for something else.
Ultimately, if you're looking for a good value gaming headset that's compatible with most gaming platforms, the PC38X is a solid choice. While it doesn't emphasize footsteps and lacks a bit of bass, it's nothing like most gaming headsets on the market today – the PC38X emphasizes clarity and detail. At the same time, the microphone recording quality is fantastic.
SteelSeries Arctis 7X for multiple platforms
For gamers who own all types of gaming consoles, a good option is to purchase multi-platform gaming headsets from renowned companies such as SteelSeries. The Arctis line is one of the best choices whe considerin a gaming headset capable of running on all major gaming platforms.
The SteelSeries Arctis 7X is compatible with smartphones, Xbox Series X|S series, Xbox One, Nintendo, Mac, PC, and even PlayStation. It's much cheaper than the Arctis 9X/9P, provides a wider compatibility range, and is also more universal. On the other hand, it doesn't have a frequency range as wide as Arctis 9X, and the sound quality is slightly lower.
As with the Arctis 7, the 7X's ear cups use the same breathable materials that make the headset more comfortable to wear. Nevertheless, one aspect of the SteelSeries Arctis 7X headset that sets it apart is the inclusion of a USB-C dongle, and an included USB-A adapter that allows it to work on both Xbox One and PlayStation, which the Arctis 7P does not have, making it incompatible with Xbox consoles.
For gaming, the SteelSeries Arctis 7X achieved good positioning accuracy, excellent clarity, and separation, but the bass was a bit lacking with poor extension. The 5-band EQ doesn't seem to positively affect bass response either, which is a shame because the Arctis 7P / 7X sounds pretty good in games but could have been better. The 7.1 surround sound mode is mediocre, but heavy action games with lots of guns can sound pretty darn good even without it.
In the end, the Arctis 7X is a worthy investment for multi-console users. It offers nice sound quality for games and a reliable microphone. It follows the success of the Arctis 7 and offers greater compatibility with gaming consoles and customizable options in the SteelSeries Engine 3 software. However, it could have offered slightly better sound quality to address the shortcomings of its predecessor.
Razer BlackShark V2 Pro Wireless
This wireless gaming headset is a sleek plastic and steel look with a 3.5mm audio cable, USB transmitter for wireless connection, excellent ergonomics, Razer Synapse 3 interface via USB, and proprietary HyperSpeed wireless technology for faster Bluetooth transmission and lower latency. In contrast to the PC38X, the appearance is simpler, more streamlined, but elegant, and the microphone is detachable, which reduces the overall weight of the wireless headset to 320 grams.
When paired wirelessly via the USB dongle using Razer's proprietary wireless protocol HyperSpeed, the BlackShark V2 Pro benefits from lower latency. The Razer Synapse 3's utilities can be used for equalizing sounds via a 10 band EQ, enhancing audio settings such as Bass booster and THX Spatial Sound, and adjusting the microphone. As for the reproduction of sound, Razer uses 50mm TriForce dynamic drivers with titanium-coated diaphragms capable of reproducing frequencies from 12 to 28 kHz, a relatively wide range perfectly suitable for all kinds of music.
Game-wise, the sound is well-balanced, with detailed vocals in the foreground and voluminous basses. It helps to immerse oneself in action. In fact, the bass isn't as powerful as other Razer gaming headsets, which makes them more neutral and attentive with the important details that are crucial for the game, such as footsteps or reloading sounds. This can be considered a plus, making the Razer BlackShark V2 Pro Wireless gaming headset work well in all genres.
Overall, the BlackShark V2 Pro is a comfortable wireless headset that offers a wired connection mode and compatibility with the most popular gaming consoles and computers, namely: PC, Mac, Xbox One, Playstation 4, and 5, Switch, and mobile devices. The wireless version of the BlackShark V2 isn't as high value and good-sounding as the wired version. Still, the convenience of a wireless solution with a more reliable connection than its competitors is certainly a selling point for wireless headset buyers. For budget users, don't hesitate to buy the BlackShark V2. It offers compatibility with as many devices as the BS V2 Pro.
HyperX Cloud Alpha
HyperX Cloud Alpha is the raved gaming headset with dual chamber drivers for more powerful bass and clear sound reproduction of the low notes. It is compatible with all major platforms such as PC, PS4, Xbox One, and Mac. As with Sennheiser PC38X, it comes with two 3.5 mm audio jack and no surround sound. And same as Turtle Beach Elite Atlas, it is made of plastic.
The first thing that makes the HyperX Cloud Alpha stand out on first use is that it has better sound and can hardly be rivaled by other sub-$100 gaming headsets on the market. The HyperX Cloud Alpha also has a nice and sleek design and an excellent finish with red metallic accents. A sturdy framework with a detachable mic on the left earcup and cozy leatherette ear pads.
This cross-platform gaming headset isn't the lightest (336 grams), but the microphone is detachable, and the ear cups can be easily replaced with a pair of velvet or leather, which is a must-have for long gaming sessions. In addition, the electret condenser microphone is more than decent with clear vocals and a surprisingly big frequency response range of 50 Hz – 18,000 Hz.
In terms of sound performance for gaming, the HyperX Cloud Alpha headset is very impressive. It does a good job of positioning, clarity, and separation of different sound effects. Connected to a DualShock 4 controller, it offers a decent bass response with the right amount of thump for explosions and gun shots. And it's not surprising considering how rich, clear, and well-rounded the sound of Cloud Alpha is.
The highs may be slightly recessed, but we're not bothered by that. In fact, it's quite unnatural at this price point for a headset to have such few flaws, and it's still much better than HyperX Cloud II or Alpha S (supposed to have been an upgrade), which are in the same category. Therefore, for all intents and purposes, the HyperX Cloud Alpha is basically an impeccable cross-platform gaming headset under $100.
Wired vs Wireless – Gaming Headsets by Connection Type
Regarding the comparison between wired gaming headsets and wireless gaming headsets, there are some important things to consider when looking for the best option, which we covered in another article about The Best Wireless Headphones.
Nevertheless, here are some of the most important differences between these two types of gaming headsets if you haven't read the article:
Wired or Analog Gaming Headsets
Wired gaming headsets are popular for delivering unparalleled audio and comfort to gamers. These gaming headsets are also more popular amongst audiophile gamers who don't want to depend on a variety of Bluetooth technologies to provide high-res audio, low-latency for gaming or want to connect their headphones to a DAC/AMP for better sound quality.
Most of these gaming headsets connect with the console using a 3.5mm audio jack, which is easier to access as compared to Bluetooth. In addition, as a rule of thumb, wired headsets tend to be cheaper and more comfortable than wireless ones.
On the other hand, wired gaming headsets don't provide the same level of convenience as compared to wireless ones. Firstly, they limit your movement because you need to be near the console or desktop PC to use them. Also, sometimes you may forget about their wires and accidentally trip over them.
For those who want to take advantage of the high affordability and superior sound quality of a good wired gaming headset, here's a list of what we consider to be the best:
Sennheiser PC38X
The PC38X is not just a good multiplatform gaming headset; it's also one of the best wired headphones that offer good value and are comfortable to wear due to their lightweight design. What makes it climb on the list is the raw audio quality that offers a detailed and rich sound that is much more balanced than ordinary gaming headsets. Its response to the low-end frequencies isn't the most impactful but has an accurate and balanced sound that comes in handy in games and music.
The Sennheiser Game Zero is less expensive than the PC38X. It doesn't offer the same sound quality, but it is an affordable gaming headset with a quality microphone for those on a budget. Sennheiser gaming headsets are known for their quality microphones and clarity. The PC38X is no exception, with an ambient-free microphone and a frequency response of 50 Hz to 16,000 Hz, Skype calls are much clearer, and TeamSpeak/Discord conversations are better than before.
The comfort of the PC38X is also much better than anything else in this price range, especially since the earcups have incredibly thick velvet-covered ear cushions, so you can wear them for a long time without heat build-up.
HyperX Cloud Alpha or Sennheiser GSP 300
When it comes to gaming headsets under $100, the HyperX Cloud Alpha and the Sennheiser GSP 300 are the clear leaders. Both are among the best analog gaming headsets compatible with PC, Mac, PS4, PS5, Xbox One, Xbox Series X, Nintendo Switch, smartphones, and other devices. What makes these two headphones stand out is their sound quality, comfort, and decent microphone quality.
The Cloud Alpha is much more popular and better-equipped than the Sennheiser GSP 300, but that doesn't make the Sennheiser GSP 300 a bad choice. For its price, it offers balanced and clear audio quality. Unlike the Cloud Alpha, which benefits from the acoustic enhancement provided by the dual chamber drivers, the GSP 300 has a weaker bass response, with less extension, that doesn't hit as hard. This can make the gaming experience less enjoyable for some gamers. The GSP 300 is also not as difficult to drive as the Cloud Alpha, whose impedance is 65 Ohms versus 19 Ohms, making the GSP 300 a better choice for gamers with weaker sound cards.
In terms of comfort, both the GSP 300 and the Cloud Alpha offer a superior feel that is suitable for long gaming sessions. Both analog gaming headsets have leatherette ear cushions with memory foam, which isn't really the optimal choice for gamers; velvet or Alcantara would have been much better for this price.
However, when communicating with friends and other gamers, the GSP 300's microphone is much clearer and isolates the voice much better. In contrast, Cloud Alpha's microphone is flexible and can be placed in front of your mouth. The GSP 300 doesn't have a detachable microphone, making it less comfortable for people who want to use it as a music headset. Still, the microphone quality is slightly better than that of the Cloud Alpha, even if it is average.
In the end, the GSP 300 and Cloud Alpha are two of the best gaming wired headsets for those who want a good gaming experience and an affordable price. Should you choose between the two? The GSP 300 is better suited for those on a budget, but the Cloud Alpha offers much more versatility, comfort, and sound quality, as it can be used as a PC headset or as a music pairing due to its higher performance with a high impedance.
Razer BlackShark V2 X
Razer specializes in gaming products. Because of this, you will find many up-to-date and quality gaming headsets. Their BlackShark V2 X headset is the updated version of the original 2012 BlackShark headset, which comes with better comfort, sound quality, 7.1 surround sound, a completely reworked architecture. It also includes an improved Razer HyperClear microphone that, although not removable like the BlackShark V2, offers good recording performance for communicating over Skype or TeamSpeak/Discord.
The BlackShark V2 X is often mistaken for the BlackShark V2 or BlackShark V2 Pro. The former connects via a USB port and has its own sound card, while the V2 Pro is a wireless gaming headset. Although they are more expensive than the Razer BlackShark V2 X, the sound quality is not bad. Unlike the V2 version, the V2 X connects with a 3.5mm analog audio jack and is a much better choice for people who want to use their headphones with devices other than USB-compatible ones.
The sound quality of the BlackShark V2 X is not as good as the BlackShark V2 but better than average. With the V2 X, you can hear and feel the accuracy of the sound. Positioning is also good. In-game sounds are detailed enough to be appreciated, and bass is strong and well-produced, though not incredibly saturated, which previous Razer customers might have enjoyed. The mids and highs are nicely reproduced and create a spacious soundstage and a nice sonic delivery. Overall, it's a balanced sound that won't appeal to audiophiles but will satisfy first-time players.
Wireless Gaming Headsets
First of all, some wireless headphones have an advantage over analog headsets because they work passively via a cable and offer a more flexible way to connect them via Bluetooth with mobile devices, PCs, and some gaming consoles.
There's a noticeable difference in sound quality between wired mode and wireless mode. Another downside of wireless gaming headsets is that they're more vulnerable to interference than wired ones because they transmit audio data via radio waves inside Bluetooth wireless protocol.
The headphones' operating range and other Bluetooth devices connect and interfere with sound quality and signal strength, which doesn't make wireless headphones an elegant solution for gaming in high-tech environments with many electronics.
Very few wireless gaming headsets are as good as their wired versions, for example, the BlackShark V2 Pro Wireless and the Razer BlackShark V2. The wireless model is about $100 more expensive and the value offered is lower, but the overall sound performance is similar.
While the sound of the cheaper wired BlackShark V2 is more popular, not all wireless headsets offer sound performance as close to their wired counterpart, but it' understandable here given the price difference. Nevertheless, it's best to check reviews or ask around to avoid buying a poorly designed wireless gaming headset that could potentially hurt your ears in the long run.
The best wireless gaming headsets can be quite expensive, and you need to consider all of these factors before buying one. Also, if you're an audiophile or want to use your gaming headset for watching movies or music on your PC, then wired gaming headphones are the way to go. On the downside, wireless gaming headsets are more vulnerable to interference than analog ones because they transmit audio data via radio waves inside Bluetooth wireless protocol.
The last thing to consider is the latency issue. If you use a wireless gaming headset, chances are you will experience some amount of lag or latency, which is not an issue with wired gaming headphones.
If you're looking for an all-around wireless gaming headset, then you'll want to go with Logitech G Pro X Wireless Lightspeed. For other high-quality wireless headphones, check out these:
Arctis Pro Wireless
The Arctis Pro Wireless headset is a wireless headset that has been around for almost 3 years. It uses the same base as the iconic Siberia Wireless H, which is simple, intuitive but old; it has two buttons, a dial, a crystal display, several ports on the back, and a place to insert the battery for charging. The Bluetooth transmitter allows you to perform certain actions such as changing the audio track, chat mix, playback volume, enabling DTS: X v2.0 surround sound, volume, etc. The proprietary SteelSeries Engine 3 software utility also gives you access to these utilities and a few others like sound equalization and firmware update.
Like all other Arctis wireless gaming headsets, Arctis Pro is a very comfortable headset that doesn't put undue pressure on your ears or head thanks to its lightweight aluminum-steel alloy construction and ski goggle-like headband.
But what's most impressive about these wireless headsets is that the base station gives you virtually unlimited battery life. Once the battery runs out, you simply swap it with the second battery and charge the empty one. No other wireless headset does this, which is why we love the Arctis Pro Wireless.
In terms of sound quality, the wireless lossless gaming headset reproduces a wide frequency spectrum. It has a clean, warm sound with subtle highs, clean mids, and deep lows that go down to 10 Hz. Bass is not muddy like other bass-oriented gaming headphones, but rather natural and pleasant. The airy presentation of highs and deep bass provides a fairly wide soundstage that helps create an immersive audio experience for FPS games.
While the bass doesn't drown out the mids as it often happens in some headsets, the Arctis Pro Wireless sound doesn't have the most accurate reproduction, especially in the mids and highs. Obviously, the headset doesn't have the same audio fidelity as the Arctis Pro GameDAC, and for over $300, the audio quality could be much better.
In the end, the Arctis Pro Wireless is one of the most comfortable and feature-rich wireless headsets around, with rich sound, a high-quality one-way retractable microphone, and unlimited battery life.
Sure, it's a bit more expensive than other wireless gaming headsets, and 7.1 virtual surround sound isn't available via USB, but you get the best wireless headset SteelSeries has to offer. Therefore, if you're looking for a high-quality wireless gaming headset that offers top-notch comfort, plenty of features, endless battery life, and great sound, you can't go wrong with the Arctis Pro Wireless.
HyperX Cloud Flight
Over the years, Kingston has developed a wide range of high-quality products. The HyperX Cloud Flight headset is no exception. In fact, it's Kingstone's first wireless gaming headset. It doesn't require any additional software or firmware updates to use, with a battery that lasts for up to 30 hours of play and HyperX Ngenuity utility interface.
HyperX Cloud Flight budget gaming headset offers wireless functionality, good sound quality, and neat plastic construction for PC and console gamers (PS4 and PS4 Pro). This product offers versatility and quality sound with 50mm drivers and convenient features like the noise-canceling microphone. It also includes a detachable microphone that is slightly muffled for multiplayer games but overall manageable.
The earcups include a power button that changes the backlight mode, another for turning the microphone on and off, a volume wheel, and two 3.5mm jack inputs – one for the analog connection and one for the microphone. The lack of additional features, such as an equalizer or 7.1 surround emulation, is disappointing but not a deal-breaker for a cheap wireless gaming headset with decent performance.
Logitech G533
The Logitech Wireless G533 Gaming Headset is a device designed to give gamers an inexpensive, almost cinematic audio experience. DTS 7.1 surround sound and EQ presets provide exciting gaming experiences with many unique and enjoyable listening modes. In addition, the headset is very comfortable and lightweight, so much so that you'll barely feel it when you wear it.
The headset consists of 40mm drives that introduce spatial sound, which is critical in the game. When you've got the headset on, it sounds like you're right in the game. The sound quality is excellent, and it provides a precise location of where all footsteps and bullets.
Logitech G533 has no connectivity for passive mode (analog connection), which means that if the battery runs out, you have to connect an auxiliary input for audio playback via speakers, or you are stuck playing without sound.
The wireless receiver USB transmitter has low latency, so there is no sound difference when playing games or watching videos, making them great for gaming on PC and PS4. Still, these headphones offer a sleek design and customizable features, which make them perfect for gamers! All in all, this is a good product for gamers looking to upgrade their audio experience with above-average 3D sounds and exciting stereo effects.
Open and Closed Gaming Headsets – Unique Acoustics for All Players
Open and closed headsets work similarly in that they both consist of ear cups that cover your ears. The difference between them is that closed gaming headsets provide an air-tight chamber within the ear cups, while open-back gaming headsets' ear cups allow air to pass through holes or vents within the ear cups.
Furthermore, closed-back headsets also use much denser ear pads which restrict the airflow and better seal the ear cups to provide noise isolation. Meanwhile, the acoustics of open-back headsets are influenced by the less dense memory foam inside the earpads and breathable cushion cover (velour, Alcantara, etc.).
In closed-back headphones, the fully enclosed design improves the overall sound by providing more resonance in addition to making less noise in your environment. The downside of closed headsets is that they make you feel like you're in a small room, hindering the immersion and instrumental separation caused by the narrow soundstage.
Open-back headsets offer a more natural, wide, and realistic soundstage. They also provide a brighter sound signature with well-extended trebles and less-emphasized basses. The sound insulation is lacking due to the open design, so you can't use it in high-noise environments where other people around you are talking or listening to music. However, open-back headsets are better if you want to keep track of your surroundings if someone is knocking at your door or the dog is barking during a gaming session.
Closed-back Gaming Headsets
Closed-back gaming headsets are great for:
Enjoying playing games with a warm sound.
Gamers who prefer good sound isolation and a quiet and private gaming environment.
Listening to Electronic music and bass-oriented genres.
Competitive gamers who want to keep aware of their surroundings.
Recording a game commentary.
On the other hand, closed-back headsets are not suitable for:
Gamers who enjoy a wide and natural soundstage and precise positional accuracy.
Gamers who prefer a brighter and more dynamic sound signature with enhanced highs.
Gamers who don't mind poor-ventilated ear cups..
Recommended closed headsets are Sennheiser GSP 600, Sennheiser Game Zero, Razer BlackShark V2, BlackShark V2 Pro, HyperX Cloud Alpha, V-Moda Crossfade LP2 Vocal and Beyerdynamic MMX 300 2nd Gen.
V-MODA Crossfade LP2 Vocal Limited Edition
The V-MODA Crossfade LP2 Vocal Limited Edition is one of those closed-back headsets that gamers can't find when browsing the "gaming headset" category on Amazon. Its discreet design and high-performance gaming characteristics make the Crossfade LP2 a true hidden gem for professional gamers.
With its metal components and hexagonal ear cups, the LP2 Vocal Limited Edition is one of the most distinctive headsets on the market. It's also lightweight and offers an ergonomic fit and comfortable feel. Also, the closed-back enclosure with metal plates on the exterior provide a good sound insulation for a quiet gaming environment.
The sound is clear, detailed and balanced, with fantastic midrange for vocals, especially when playing dialogue-heavy games. It has all the features you need for gaming such as low impedance, high comfort level, wide frequency response range from 5 to 30,000 Hz for a proper soundstage, V-shaped sound signature that highlights all the action in games and an in-line microphone that helps you communicate with teammates and friends.
The V-MODA Crossfade LP2 Limited Edition is designed exclusively for music enthusiasts and DJs, but it's also suitable for gamers looking for a headset that fits snugly on their head for extended periods of play. And for less than $200, the quality presented by V-Moda is far superior to that of more expensive conventional gaming headsets you see all over the Internet.
Sennheiser GSP 600
After the GSP 300 and GSP 350, Sennheiser decided to show that it is the best and presented the ultimate gaming headset – the GSP 600. The Sennheiser GSP 600 headset doesn't offer great value for money, but it does offer powerful and rich sound and is one of the best closed gaming headphones from the company.
The headset features high-quality audio technology and thus aims to offer a particularly rich sound character. It also has a flexible and comfortable design and offers compatibility with smartphones, Xbox One, PS4, PS5, Nintendo, PC, and Mac. In addition, the GSP 600 has two detachable cables for PC, consoles, and smartphones, a fixed microphone with a wide range of reproducible frequencies, and soft leatherette earpads.
The sound has no major flaws; it is natural and warm, focusing on low frequencies designed for Battlefield 4, Call of Duty, or PUBG. Although the product is intended for gaming, it also scores well in music playback and movies. You can also connect it to a Sennheiser GSX 1200 and enjoy 7.1 surround sound that enhances the perception of position and depth of sound even more.
Razer BlackShark V2
The Razer BlackShark V2 is a high-performance closed-back USB gaming headset that you can buy for around $100. One of the main features of the Razer BlackShark V2 is that it has a detachable cardioid microphone. The 50mm TriForce Titanium drivers are also much more refined than those of the V2 X. Indeed, the sound quality is crisp and clear. And with the new THX spatial audio feature, the sound is transformed into a virtual 7.1 surround.
The BlackShark V2 comes with a software called Synapse. This software allows you to fine-tune the sound of the microphone and headphones in a number of ways, using the equalizer and other settings. The sound quality is precise and much better than one would expect from this price range. The overall sound signature is surprisingly balanced and punchy without being too bass-heavy or too sharp in the treble. In the end, gaming is made easier with Razer's BlackShark V2.
The only problem: for the PlayStation 4 and Xbox One, you have to remove the USB sound card to connect your console via a 3.5mm audio cable. In other words, using this headset on a gaming console isn't as convenient as it could be. Still, with much more comfortable ergonomics than the original Razer Blackshark, a high-quality microphone, and sound that helps you distinguish footsteps, voices, and gunshots from other players, the Razer Blackshark V2 is a phenomenal closed gaming headset for PC gamers.
Open-back Gaming Headsets
Open-back gaming headsets are much better for:
Listening to much more natural music.
Enjoy a vast auditory scene in your living room.
People who love an airy and rich sound.
FPS games in which a large soundstage and accurate imaging is essential.
Gamers that want the utmost comfort.
Open-back gaming headsets aren't great for you if you:
Live in a noisy environment.
Want the best possible sound insulation.
Don't want others to hear your conversations.
Prefer a punchy bass with great impact.
Hate bright sound with enhanced trebles.
Are using the headset with music players that are more bass-heavy.
For those looking for the best open-back gaming headsets and headphones, you will want to consider the following: Philips SHP9500, Sennheiser PC 38X, Sennheiser Game One, Massdrop x Sennheiser HD 58X, Audio-Technica AD700X and ATH-R70x
Sennheiser PC38X
The PC38X is a great open-back gaming headset for PC with excellent sound that is second to none. It ranks as one of the best cross-platform and open gaming headsets. Check out our PC38X review here.
Sennheiser Game One
If you're not looking to spend too much money on an open gaming headset, the G4me One from Sennheiser is worth a look. You'll get a stylish, open-acoustic headset for a reasonable price. And when it comes to top-notch quality sound, the Sennheiser G4ME One Gaming headset is without a doubt one of the best open headsets on the market. The headphones are also comfortable due to the open-back design, which has several benefits and disadvantages.
Sennheiser's G4me One open-back headset is comfortable to use. Offering excellent sound and a wide soundstage, these headphones are perfect for use in a relatively quiet area, so they're not well-suited for LAN gaming. Their open design is ideal for long gaming sessions, as the ear pads are well ventilated and won't make your ears sweat. With a wide soundstage and an impressive microphone, these are just a few of the benefits this headset provides.
Overall, the Sennheiser G4me One EPOS headset is a great pair of open back gaming headsets that are perfect for the price. The only thing we didn't like was the fixed microphone and the sound response that isn't as balanced as the Sennheiser Game Zero. Nevertheless, if you are looking for an open-back gaming headset at a reasonable price, this headset will be perfect for PC or console gaming.
Astro A40 TR (semi-open gaming headsets)
As the video game market grows each year, Astro Gaming is a key player in the industry. In order to keep up with new technologies, Astro Gaming decided to integrate the MixAmp Pro TR into its Astro A40 TR open headset, a piece of equipment that is very familiar to gamers, as it allows for the separation of chat and in-game sounds, better audio quality and offers other features such as surround sound and sound equalization.
The A40 TR was explicitly designed for gamers and is highly customizable and equipped with all the features they need. For starters, it offers Dolby 7.1 Virtual Surround Sound, which is perfect for gaming enthusiasts who want an immersive sound experience when playing games like Counter-Strike: Global Offensive or Days Gone, where sound is key to success during gameplay. It also features a swappable boom microphone and customizable speaker tags that you place on the ear cups for a semi-open acoustic design.
The Astro A40 TR offers excellent sound quality and a lightweight design for hours of enjoyable gaming sessions. It may not have a perfect design, but the Astro A40 TR headset can easily be the upgrade you need if you want an open gaming headset. Ultimately, it's a matter of personal preference. With its broad compatibility, the Astro A40 TR headset is perfect for everyone as it works on mobile devices, PC, Mac, Nintendo Switch, and your device of choice – Xbox or PlayStation.
Audio-Technica AD700x
We saved the best for last because the Audio-Technica ATH-AD700x is one of the best affordable open-back audio headphones for gaming. The previous two open-back models are much more suited to gaming enthusiasts who like the typical sound signature of a mainstream gaming headset. The ATH-AD700X, on the other hand, is for audiophile gamers who prefer a competitive edge through a more neutral, accurate, and detailed sound along with an open-back design.
The ATH-AD700X presents itself elegantly and without a microphone, gaming elements, LEDs, or gaming-specific features. Instead, it provides the comfort that should keep you gaming for hours without being interrupted by annoying ear pain.
The open over-ears from Audio-Technica are a great option for listeners that prefer a more comfortable fit and a less-bass heavy sound. The quality of the sound is great, with an exemplary soundstage and vivid three-dimensional spatiality. The character of the sound is cool and nicely textured, whereas the bass is adequate without being too much, and the sound is very clear and detailed. Everything comes together nicely to present the necessary audio cues to defeat your opponents and enjoy a fantastic listening experience afterward.
Overall, the ATH-AD700X is an excellent and comfortable headset for all types of music, movies, and video games. It's a versatile model that you can use for professional recording work or everyday gaming sessions. It's not a "gaming headset" per se, but it's clearly one of the best open-back headphones that can be used for gaming by competitive gamers.
So there you go, some of the best open gaming headsets on the market. We didn't want to list expensive open gaming headsets like the Audeze LCD-GX in this section, as many are listed in the Hi-Fi gaming headsets section.
USB Gaming Headsets
USB headsets are used for PC gaming. They are a popular option for gamers, mainly because the digital connection via USB offers a reliable sound transmission, no background noise, low distortion, and is much more reliable than an analog connection.
A USB headset is advantageous for gamers because it contains a built-in DAC that converts digital audio to analog and an amplifier. Because it has its own DAC and AMP, it can easily connect to any computer or laptop. You don't need to buy additional audio equipment, as it's usually the case when dealing with PCs and laptops with poor sound cards that don't deliver the best possible sound quality. It works without any additional software, bypasses the sound card on your computer, and keeps the rear audio ports available for other audio equipment.
The probability of the USB cable breaking or damaging the sound quality is very low. After some time, the 3.5 mm jack plug of a gaming headset will be worn and torn. This reduces the electrical conductivity and degrades the sound quality. That's why we recommend using a USB headset for PC gaming for beginners because it can last almost forever and doesn't require upgrading your sound card.
USB gaming headsets have many advantages:
Thanks to their digital connection, USB headsets work without any latency
USB headsets with properly implemented DAC/Amp produce no background noise and are incredibly reliable
A headphone amplifier and DAC are built into the headphones themselves
Some USB headsets have acceptable 5.1 or 7.1 surround sound
They are compatible with the PS4 (via USB 3.1) and PS5 (via USB-A and USB Type-C)
Great gaming headsets for Laptops
Disadvantages of USB gaming headsets:
Not future-proof, so there's no point in buying expensive USB headsets.
Wired USB connections and USB dongles do not work with Xbox controllers and consoles unless they are Xbox compatible.
Can only be used on PC and devices that support USB connection
Not worth it if your sound card is decent
Can be heavier due to the DAC and amplifier components
Not the most optimal solution for music listening or competitive games
USB gaming headsets may suffer from static electrical noise or interference due to their DAC/AMP components installed inside the headset.
Expensive
Although USB gaming headsets sound better than analog gaming headsets that rely on your computer's sound card, they are also more expensive. Therefore, if you have a quality sound card like the Creative Sound Blaster AE-7 or a dedicated AMP/DAC like Schiit Hel, or if you intend to create a great audio setup for gaming, you shouldn't buy a USB gaming headset.
On the other hand, if you're a casual gamer who wants better sound quality than regular analog headphones without having to buy a sound card or Dac+Amp combo, USB headphones are a good choice for you.
There are a plethora of USB gaming headsets on the market. However, not all of them offer comparable sound quality and overall performance. Therefore, the safest bet is to opt for one of the following models:
SteelSeries Arctis Pro + GameDAC
There are many good things the SteelSeries Arctis Pro + Gamedac can do, like providing excellent audio quality, DTS Headphone X V2.0, and a very good microphone with ClearCast technology. But there are a few things it could do better. For example, the microphone is fixed, and that there is no adapter provided to connect other headphones to the DAC. The High-Res mode is also not distinguishable from the standard stereo mode.
The sound of the Steelseries Arctis Pro is clear, the bass is sufficiently present even if it lacks a little punch. The virtual surround sound system is rather pleasant, even though it could have benefited from a much more realistic 3d sound. For games, the sound is not perfect but has low distortion. Regardless, if the sound is not to your liking, the GameDAC and Steelseries Engine 3 equalizer will improve the sound quality and adapt it to your needs.
Besides all the positive aspects, the SteelSeries Arctis Pro + GameDAC combo is not without its flaws. In particular, I would have liked to see much better surround sound, much more comprehensive software since the GameDAC offers the same great features, and an adapter or ports to connect other headphones to the DAC. But if you can live with these few drawbacks, I don't see how this product can disappoint. The price of about $250 is higher than what the headset offers, but the various features and high-quality lossless sound can make it worth it for the right people.
HyperX Cloud 2 or Razer BlackShark V2
HyperX Cloud 2 Review
HyperX Cloud 2 is a much more popular USB gaming headset than BlackShark V2 from Razer. It's also similarly priced and provides compatibility with a wide range of devices, just as the BlackShark V2. The similarities end with the superiority of the HyperX Cloud 2 in terms of sound, bass reproduction, microphone quality, and workmanship. Of course, the difference isn't extreme, but the HyperX Cloud 2 is a much better choice for a USB gaming headset.
The HyperX Cloud 2 is a pair of gaming headsets with a clean "gun metal" or red finish and a durable headband. It has a slightly superior build quality than many similarly priced gaming headsets, including the BlackShark V2, and uses high-quality materials and a detachable TeamSpeak and Discord certified microphone.
Sound-wise, the HyperX Cloud 2 has great acoustics, with clear bass from the 53mm drivers and mids that aren't overshadowed. Plus, HyperX's proprietary 7.1 surround sound is there to give you an immersive gaming experience in the same way that the BlackShark V2 offers THX Spatial Audio. Cloud II's sound is very accurate. The bass is dead-on and doesn't deviate from the rest of the frequencies. We don't have much criticism for the mids since they are also well distinguished, without playing too prominently, while the highs are quite good but usually dry.
Razer BlackShark V2 Review
The BlackShark V2 Pro has received some praise, but it is about $50 more expensive than the wired BlackShark V2 and has razor-thin weaker performance. The Razer BlackShark V2 is essentially an upgraded version of the Razer BlackShark, which has no superfluous design with green elements and is far more comfortable and far more versatile and feature-rich than the Razer BlackShark V2 X.
With its new all-black design and a detachable Razer™ HyperClear Cardioid Mic with a frequency response of 100 Hz – 10,000 Hz, the BlackShark V2 is good for those who want to communicate with their friends, but not as great as the HyperX Cloud Alpha or the PC38X. The BlackShark V2 USB gaming headset provides compatibility with various gaming platforms and consoles via USB connection and 3.5 mm jack. As with any USB headset, it packs its own DAC and Amp, which is fantastic for gamers on a laptop or PC with weak sound cards.
Besides the THX Spatial Audio technology and USB sound card, the BlackShark V2 delivers a smooth and balanced sound with confident basses and a good capacity to hear footsteps, gun firing, and other audio cues. This headset is one of the best budget USB gaming headsets for PC, and it also serves as a good alternative to the BlackShark V2 Pro Wireless and BlackShark V2 X.
Should I buy HyperX Cloud II or Razer BlackShark V2?
We recommend buying the HyperX Cloud 2 over the Razer BlackShark V2 if you're looking for a USB PC gaming headset. The difference in quality is not that big, especially considering their price range and the differences in design and ergonomics. Ultimately, choosing between two types of USB gaming headsets is a matter of preference. And whether you choose one or the other, you'll still get great sound quality and performance for your money.
Corsair HS60 Pro or Jabra Evolve 20 with USB-A or USB-C
The Corsair HS60 Pro is a USB headset designed solely for gaming, while the Jabra Evolve 20 is slightly more versatile and is much better for the office. Despite their differences, the Evolve 20 have the qualities to challenge some gaming headsets with their featherweight build of 132 grams for all-day use, a superior noise-canceling microphone for team communication, and decent sound quality for FPS games.
These headphones are not consistent in that the build quality, materials, sound signature, and microphone quality vary considerably. The HS60 Pro is solidly built with large, comfortable ear cups, but it's also three times as heavy.
While Corsair HS60 Pros' sound quality via the USB sound card is fantastic and offers virtualized 7.1 surround sound and adequate detail retrieval, nothing will satisfy the needs of a gamer looking for accurate and natural sound reproduction. As for the Jabra Evolve 20's microphone, it doesn't spoil the party at all, but it's not the best in its class either.
If you want to buy the best USB gaming headphones for PC, the Corsair HS60 Pro is the best option, with its rugged construction, sound performance, built-in DAC/Amp, and multi-console compatibility. The headset isn't as light as the Evolve 20, but the sound is much better. That's because the Corsair HS60 also supports virtual 7.1 surround sound that enhances the spatial impact in games. You won't be able to hear footsteps or other sounds in CS: GO like with the HyperX Cloud 2, but it's the best budget USB headset a gamer can buy for half the price.
Planar Magnetic Gaming Headsets – Enjoy Accurate, Low-distortion Audio
Planar magnetic gaming headsets are known for their ability to deliver crisp, clean, transparent sound. They are also quite open and offer a wide soundstage with accurate positioning. In addition, Planar gaming headsets can simulate surround sound much better than gaming headsets with dynamic drivers.
Gaming headsets with planar magnetic drivers are still relatively new to the gaming scene. Only a few companies offer such models, such as Audeze, HiFiMAN, and Monoprice. This technology is not common, but it is widely used by high-fidelity headphones.
Planar magnetic drivers are generally larger, heavier, and more expensive than dynamic drivers. Still, they offer better audio reproduction and generally perform better in positional accuracy and richness of detail at the cost of slightly reduced bass impact. Even in open gaming headphones, planar speakers reproduce bass better than ordinary dynamic drivers, but they don't provide enough punch despite their considerable size.
Because they are less sensitive, even though some planar gaming headphones have low impedance, they still require a good headphone amplifier to power them. The need for power is also necessary because insufficient power can produce artifacts and loss of detail. Therefore, amplification is required for the fullest potential of planar magnetic headphones.
The advantages of planar magnetic gaming headsets are:
The lack of sound distortion at high volume and vivid sound reproduction.
Great positional accuracy and realistic stereophony for gaming.
Play with a much greater extension of the bass and treble range than dynamic headphones.
More clarity is found in detailed parts of gameplay and music. For example, intense Overwatch games and Jazz music.
The immersive feeling you get when you're playing your favorite games with a high-end planar magnetic gaming headset.
The disadvantages of using planar magnetic gaming headsets:
Bigger, heavier, and pricier than dynamic drivers.
Require a lot of power to drive them.
A good Amplifier to drive these headsets is also pretty pricey.
There aren't many planar gaming headsets to choose from.
Planar magnetic drivers are not as durable as dynamic drivers.
You should not drop them or rage-throw them when losing a game.
Read more about the pros and cons of Planar Magnetic Drivers here:
https://www.headphones.com/community/reviews-learning-and-news/planar-magnetic-vs-dynamic-driver-headphones-which-is-better
While planar gaming headsets may seem exotic to some gamers and hardly accessible, some affordable models don't require a minimum budget of $500 (except HiFiMAN Sundara Hi-Fi).
Audeze Penrose
Monoprice Monolith M1070
HIFIMAN Deva
HiFiMAN Sundara Hi-Fi
Audeze Penrose – Our Best Wireless Gaming Headset with Planar Drivers
Audeze Penrose is a headset created by Audeze, the best-known manufacturer of planar headphones for audiophiles. The product is targeted primarily at people who are audiophiles and gamers. For gamers, it offers an exceptional audio rendering to make the difference between victory and defeat. For audiophiles, it boasts of the same facilities with similar sound quality as Audeze Mobius.
The American company Audeze is known for its beautiful-sounding headphones, and its newest headset is no different. The Audeze Penrose is an exceptional gaming headset that can be both wired or wireless, which makes it a really versatile choice depending on your preference. With the help of Audeze's HQ software for PC and apps, analog connection, USB dongle, and Bluetooth 5.0 with AAC and SBC technology, you can enjoy gaming at maximum even on your smartphone.
The Audeze Penrose wireless gaming headset is also listed as one of the best multi-platform gaming headsets.
Monoprice Monolith M1070 – Affordable Hi-Fi Headphones with Planar Drivers
Looking for a pair of planar headphones for gaming that offers incredible sound quality but is also affordable? Don't worry about sacrificing comfort because the Monolith M1070 offers unimaginable sound quality for the price. Imagine being able to listen to all the subtle elements in your game and enjoy your favorite tunes for thousands of dollars less than some of the most expensive planar audiophile headphones on the market.
The driver diameter of M1070 is an impressive 106mm, much larger than conventional dynamic driver headphones, the most popular of which is 40mm. The Monolith M1070 has an airy sound with clear highs and mids, low frequencies that aren't too heavy, and a huge soundstage. The sound is extremely lively, detailed, and immerses you in the game, which is really hard to find among headphones.
While the planar drivers don't have the thunderous bass most gamers prefer, the Monolith M1070 is perfect for any competitive gamer. The bass is still there and not lacking in any way; it's just more subtle, much better articulated, with a character to suit audiophiles. The Monoprice Monolith M1070s aren't perfect, but they don't need equalization and offer greater value than any ordinary gaming headsets at Gamestop or Bestbuy stores. Their only downside: their 580-gram weight won't let you enjoy them for 10 hours a day.
Planar gaming headsets like the HyperX Cloud Orbit S that work with multiple platforms are good in terms of versatility and features. Still, the Monolith M1070 is cheaper, higher rated, and generously padded. It's comfortable despite being 200 grams heavier, at nearly 600 grams, and offers the wide, airy soundstage of open-back hi-fi headphones that you only find in $1,000 headphones. In fact, buy a quality surround sound software, and you'll be punching yourself with the Monolith for wasting time with those average gaming headsets.
HIFIMAN Deva – Wired or Wireless Hi-Fi Planar Headsets with aptX HD
With an almost identical weight as Cloud Orbit S and a sound that challenges that of Focal Elear, there's HIFIMAN Deva. You can buy it in wired mode or wireless. The wired version costs around $200, while the addition of a wireless transmitter costs $100 more. For gaming, the sound performance of the HiFiMAN Deva headset cannot be matched by any regular gaming headset. The wireless version comes with LDAC, aptX HD, and its Bluetooth receiver, "Bluemini" equipped with DAC and Amp. The only downside of the Deva is its low battery of 10 hours and high latency for gaming in wireless mode.
HiFiMAN Sundara Hi-Fi
The next brilliant planar headphone is the HiFiMan Sundara Hi-Fi, which offers deep bass and extra punch compared to other planar headphones. Unlike the HiFiMan Deva, it doesn't have a microphone, but gamers are sure to love this audiophile headphone with its satisfying sound signature and unreal clarity, which makes it an excellent companion for fast-paced FPS games, and the classical and acoustic music genre is also a plus.
Hi-Fi Gaming Headphones – The Best Performing Headphones for Gamers
High-fidelity gaming headsets and planar gaming headsets are quite similar in that not all hi-fi headsets have planar drivers, but some have planar drivers.
Aside from the regular headsets labeled as "gaming" headsets, there are some high-end audiophile headphones designed specifically for professional tasks such as music production, monitoring, and mixing or mastering. These specialized high-fidelity studio headphones are also perfect for gaming because they are designed for precision and accuracy.
High-end gaming headsets are not necessarily expensive. In fact, they're much more cost-effective than any gaming headset. They are designed to meet and exceed the standards and specifications of recording studios and professional audio equipment. The drivers in these high-fidelity headsets are made with high-quality transducers, which can deliver crisp, clear sound without distortion or loss of quality. The soundstage of these hi-fi headphones is exceptionally open and vast, which makes playing games on this type of headset quite great.
Thanks to their great comfort and adaptability in-game, high-fidelity gaming headsets can be used for competitive gaming tournaments. The sound quality goes hand in hand with the level of immersion that you get while playing games, and the best part about these headphones is that they are designed to help sharpen every sound, making you much more aware of your surroundings and dangerous to your enemies. They have a clear, rich and detailed sound that allows for great auditory visualization but is highly dependent on a quality headphone amplifier.
The downside of gaming with hi-fi headphones is, unlike mainstream gaming headsets, some professional reference headphones require good amplifying power, like Sennheiser HD 660 S or Audio-Technica ATH-R70x with 470-Ohms. Another drawdown is that hi-fi reference headphones are incompatible with multiple gaming consoles and don't have many features that appeal to gamers, such as filtering out environmental noise or chat volume control. They also do not have a microphone.
But none of that outweighs the raw sound quality that is delivered by these headphones. Because while you don't have a microphone, you can buy any USB microphone that you prefer that will perform much better than any small electret mic. Something like Blue Yeti X or HyperX CloudCast S will do a tremendous job in any recording application.
The advantages of hi-fi gaming headphones are:
High soundstage, impressive sound quality for its price range.
The sound effects of the games are reproduced with excellent finesse and precision.
Ideal for competitive gaming.
Excellent comfort for extended use.
Open-back hi-fi headphones synergize well with any surround sound software.
The disadvantages of hi-fi gaming headphones are:
The main disadvantage is their lack of features and microphone.
Require a good headphone amplifier.
In conclusion, the best gaming headphones are not made by any specific company. While they may look like high-quality, stylish headphones that appeal to the average gamer, they are just different variations of average headphones with microphones offered in standard gaming flavors.
The most important thing for headphones for gaming is that the sound is good and provides satisfying detail and information. Although you either pay upward of $300-$400 for a pair of headsets marketed for gamers or buy for the same price a dedicated microphone, headphone amplifier, and hi-fi headphone to play games with.
Some audiophile headphones for gaming worth mentioning are:
Sennheiser HD 800 S – State-of-the-art Performance for High-Fidelity Gaming
No doubts, the Sennheiser HD 800 S is the best high-end audiophile headphones you can use for gaming, but they're not for everyone. Its most noticeable features are obviously their ability to reveal every detail in your game with their descriptive and crisp sound and their immersive soundstage that's impressive even for an open-back hi-fi headphone. Compared to the HD 800, the HD 800 S has slightly warmer tones. The difference is so small that it's almost unnoticeable. Yet it's much better suited to video games.
The multi-layer metal design minimizes vibrations and ensures the highest quality of sound and durability. The plush cushions with leather and headband make it highly comfortable to wear for extended periods. As you probably know, the HD 800 S is a demanding hi-fi headphone. It offers everything you need in an audiophile headphone to play PC games. Still, to fully enjoy its acoustics, you also need a quality headphone amp: Schiit Modi 3+ or Schiit Magni Heresy.
All in all, the HD 800 S from Sennheiser is an excellent, high-fidelity headphone that gives you a glorious listening experience. There's nothing better than to sit down at your i9-9900K Z390 Gaming X, 32 GB G.Skill TridentZ, Samsung 970 Evo Plus 1 TB, RTX 3090 24 GB Founders Edition Graphics Card PC on a rainy day with your new HD 800 S, play some Shadow of the Tomb Raider, Witcher 3 or Cyberpunk 2077 and enjoy the musical masterpiece that is the game's soundtrack or listen to some music in high-res FLAC 24/192 files!
AKG Q701 or AKG K712 Pro – For a Large Soundstage and Supreme Comfort
The AKG Q701s are a great pair of open-back headphones that provide you with excellent audio quality and durable construction. The sound these headphones produce is voluminous and precise, and the workmanship couldn't be better.
I really don't need to say more about how they look because they're professional-grade, meaning they have a sleek, high-quality design made to be comfortable for longer than you can play games. The only downside is that the wing-style headband might be very comfortable to some or annoying to others. But for the right people, these are the best reference hi-fi open-back headphones.
We also recommend AKG Q701 and K712 Pro in Chapter 1 on the Best headphone setups for gaming as the best choice for enthusiasts of comfortable open-air headphones with a large soundstage, great positional accuracy, and an immersive gaming experience. Pair them with JDS Labs Atom or Creative Labs G6, and you've got yourself a fantastic audio setup for gaming.
Sennheiser HD 599 or 598 – Surprisingly Effective Open-headphones for Positional Accuracy in Games
Sound quality is not enough to make headphones please your ears; comfort and ergonomics also play an important role. That's why the German company Sennheiser has created such a model as HD 599 headphones with an open design. In addition to the fine assembly and the high-quality materials, the headphones have a detachable cable, unlike other hi-fi headphones, and offer an ample and superbly detailed sound stage.
The Sennheiser HD 599 headphones made a very good impression on me. Everything is simple, elegant, and therefore beautiful. The headphones sound very pleasant, soft, and warm, but with a high level of detail. Thanks to the open design, they are voluminous whether you listen to stereo recordings or virtual surround sound in computer games. The only downside of these amazing reference headphones is that they aren't suitable for listening outside the home due to a lack of sound insulation.
The headphones are made for home use, but I found the sound signature of these headphones to be excellent for PC games. The sound signature has a warm tone with a subtle emphasis on low frequencies and only slightly muffled high frequency. The bass is reproduced very powerfully without losing detail or becoming muddled, giving you the ability to navigate the virtual world with ease. In-game audio effects are reproduced accurately, strongly emphasizing dynamic sound without undermining the correctness of the game.
The HD 599 is concluded as an exclusive product from Sennheiser. It was released in 2016 and replaced the 2015 HD 598. Its design is similar to the HD 598, but its sound response is slightly more accurate and clear. You can buy either one as they are both exemplary open-back headphones.
Who Are Hi-Fi Gaming Headphones For?
Any audiophile who loves playing some games once in a while or a competitive player who has a small passion for music will be delighted by a pair of high-fidelity headphones. They are very comfortable and provide a great gaming experience, feel, and sound that fascinates details and musicality.
Hi-fi gaming headphones are not for people who need to talk on Discord or Skype while playing games or those who don't like the presence of balanced cables. Nevertheless, they are for those who don't want to bother with overpriced mediocre gaming headsets, but rather want to immerse themselves in the game.
In short:
It's tailored for people who want to play competitive FPS games such as Overwatch, Counter-Strike, Battlefield, or any other games that require fast and precise reactions.
It's made for gamers who want to hear and feel every footstep, explosion and gunshot, and the most subtle details in games.
It is ideal for audiophiles who can enjoy the music and soundtracks of games or who want to immerse themselves in the atmosphere of various games or hear every instrument and tone of their music.
How Do I Know my High Fidelity Gaming Headphones Need an Amplifier?
Most hi-fi headphones require an amplifier. But not all do. The best way to know if you need an amp is to read the headset's specifications and look for two values: Sensitivity and Impedance.
Sensitivity represents the decibels a headphone can produce for a given amount of power. The higher the value, the less power your pair of headphones will need to produce a certain level of volume.
Impedance is the total opposition to current flow in an electrical circuit. The higher the value, the harder it is to push electrical signals through the headphones. As a result, you need extra power to achieve a certain volume when you're using high-impedance headphones.
You know that you're headphones require amplification when the impedance is above 25 Ohms, and the sensitivity is below 100 dB. In some cases, such as with Audeze planar magnetic headphones, even if your headphones seem manageable, they still require a headphone amplifier – either to make them play accordingly or push them to their fullest potential.
The best way to find out how much power your headphones need is to look at the specifications on their packaging or online at their product page.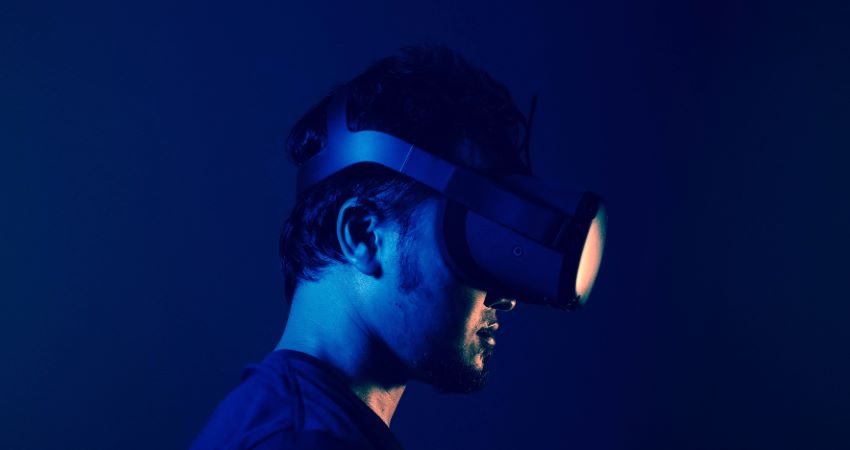 VR headsets for PC gaming – A fun headset for virtual reality (VR) gaming
Virtual Reality headsets are becoming more popular day after day. These devices work by tracking the movement of your head and ensuring that the game is displayed on the screen in a particular way. While this technology is not currently widespread or available for all platforms, some games are available for purchase that support this type of technology, such as Quake III Arena. Once supported, you can bet that you'll be able to enjoy this technology on almost any type of platform. In the meantime, you can expect a lot of exclusive games as VR is targeted towards a niche market.
VR Headset for Smartphones
Virtual reality headsets have been with us for a while now and have been used in a few smartphone apps with mixed results. The Oculus Rift is a device that has been found to work well with smartphones and allows you to experience virtual reality on your smartphone or tablet. Samsung Gear VR is available for their line of smartphones and is a good example of what consumers can expect from smartphone virtual reality.
Here's How We Evaluate and Compare Gaming Headsets
In this article, we compared the best gaming headsets in their category and came up with a limited list of 3-5 models that perform the best according to their type, price category, and overall performance.
1st Step
The first step in our process was to shortlist the products that deserved our attention. To do this, we looked at reviews from major headphone publications, checked the top-rated headphones on several online stores such as:
Amazon.com
Drop.com
BestBuy.com
Headphones.com
Sweetwater
Audio46, etc
Conducted research on websites like:
Reddit, Quora
Head-Fi
HiFiGuides
AudioAsylum
And read hundreds of reviews until we found the best headphones for gaming in their category.
2nd Step
The second step in reviewing our products is choosing a theme for the product. Such as Budget, Competitive, Best All-around, or Performance. These themes will help us focus our review and develop the best product in each theme to test.
After that, we checked the standard features, sound, design, and other aspects that are important to look at. We focused on the features that gamers find most important to a headphone and ranked them in order of priority:
Sound quality
Comfort
Microphone quality
Features
Multiplatform compatibility
Design
After selecting all the gaming headsets to review and rank, we tried to find competitors for each product to get a better idea of their strengths and weaknesses and compare them. If no better headset could be found, the headset was considered a winner. Otherwise, the headset that we compared to our previous best takes its place as the best current headset in its category, and the process continues until we've found our list of winners.
The entire evaluation process takes a few hundred hours to find the right gaming headphone for all types of gamers.
Frequent Answers & Questions
How to Find the Best Gaming Headset?
Now that you have a general idea of the different types of gaming headsets, I'm sure you're wondering how to find the best gaming headset for your needs in your favorite category?
It's not as complicated as it might seem at first. Although there are many things to consider when buying audio equipment, the most important aspects of any gaming headphone are comfort, sound quality, value, and platform compatibility.
Comfort:
Less than 250-300 grams.
Generous padding.
Velour or leather ear pads.
Soft and flexible wing-type headband.
Sound:
Detailed and accurate sound.
Large soundstage with good imaging.
Good separation of musical notes.
V-shaped sound signature and/or potential to EQ.
Value:
Lower price than another headset with similar performance.
Good build quality, stylish design, and long lifespan.
A warranty on purchase.
It's noteworthy that it is almost impossible to find a gaming headset that meets all requirements and suits all types of users. In terms of comfort, some planar gaming headsets weigh more than 300 grams and do not have a winged headband like AKG, but they are still a viable option due to their good sound characteristics and high value. While other headphones are very light, but don't have the same generosity of padding as the Monolith M1070, which weighs 580 grams.
The headphones that we recommend for gaming in this article have a better value proposition than their competitors and check almost all the requirements of a high quality gaming headset.
Should you Buy a Regular Headphone for Gaming or a Gaming Headset Dedicated to Playing Video Games?
The short answer is: Buying a regular headphone that performs well in gaming coupled with a dedicated microphone of your choice will outperform 90-95% of gaming headsets.
If you go with a gaming headset, the only scenario in which you're making a good investment is when you play games on multiple consoles and love playing with the variety of features that most gaming headsets come with.
Otherwise, if you only play PC or Mac games, you're better off buying a Hi-Fi headset that can be used for both music and games.
Normally, the dilemma of whether to buy a regular headphone for gaming or gaming headset requires a different article for which we wrote a section that outlines better audio setups for gaming at a cheaper cost in Chapter 1 – Guide on the Best Gaming Headphones Setup and How to Get The Most Out of Your Gaming Headphones.
What Is The Best Type of Gaming Headset?
There is no definite answer to this question, mainly because the best type of gaming headphones depends heavily on your budget and needs. The fastest car in the world is probably the Bugatti Chiron Super Sport, but does it really matter if you can't afford it or need it? Same with gaming headphones.
Nevertheless, for people with an unlimited budget and a huge passion for gaming, a hi-fi gaming headset with a powerful DAC/amp combo and a fantastic dedicated micro, you can go for what would be a great gaming audio configuration setup:
Sennheiser HD 800 S or Audeze LCD-GX, Chord Mojo DAC/Amp, Shure SM7B microphone, an adjustable microphone arm of your choice, XLR male to female cable, 1/4 inch TRS cable, Focusrite 2i4 audio interface, and dbx 286s microphone preamp to power the microphone and connect it to your PC. It would cost you around $2000, but this setup's streaming performance and musicality will not disappoint even the most demanding listener, gamer, or anything in between.
For the set up of the Shure SM7B, there's plenty of YouTube videos like this one:
PS: Don't let the low-impedance of Audeze LCD-GX trick you into thinking it doesn't need power. It needs LOTS of power, especially as Audeze planar headphones scale better with higher power.
For a much more affordable option, I would probably go with this:
AKG K712 Pro, Creative Labs G6, and Blue Yeti Nano
For a great all-around setup for gaming enthusiasts:
Drop + Sennheiser PC38X or Beyerdynamic TYGR 300 R
Whereas casual users could benefit from HyperX Cloud II or Corsair HS60 PRO
Conclusion
We've written this guide to help you make the best decision when buying a headset. We covered the most important types of gaming headsets, offered advice on what to look for and how to buy the best one in each category for your needs. We've also compiled a list of our top picks after extensive research that you can buy or use as inspiration to compare the headphones you want.
The amount of money and time you'd spend on a gaming headset is quite high, and we hope we have helped you choose the right gaming headset without having to go through the pain of trial and error, choosing a headset that doesn't perform according to its price.
Let us know if you have any questions in the comments below about gaming headsets or your favorite headset that we didn't cover here or mention in the article. And don't forget to share this guide with your friends who might be interested in learning how to differentiate between the different types of gaming headsets and enjoy a new level of gaming.
Best of luck and happy gaming!