Soundsight Headphones is reader-supported. When you buy through links on our site, we may earn an affiliate commission.
After the launch of the SteelSeries Arctis 5 series, the brand has introduced a new wireless headset in the Arctis series, Arctis 7. This new headset is the perfect combination of the Arctis 5 and 3 and promises performance and innovations in design and ergonomics. Let's see if the brand will live up to its expectations with the new SteelSeries 7 wireless headset.
To learn more about the SteelSeries brand's innovations in its new headphones, we conducted several tests. If you've already heard about them and want to buy them, here's how you can imagine the Arctis 7 earphones and see if they meet your needs.
SteelSeries Arctis 7 Wireless Gaming Headset Review
SteelSeries Arctis 7 Wireless Specifications
Type: Wireless Gaming Headset with Virtual Surround Sound | Bluetooth: 2.4GHz Wireless RF | Latency: ~200 ms (average) | Battery: 24 Hours | Quick-Charge: 10 Hours in 10 mins | Drivers: Dynamic | Drivers-Size: 40 mm | Frequency-Response: 20 Hz – 20,000 Hz | Weight: 375g | MSRP: $150
Pros
Intelligible recording and speech capability
Overall comfortable
Rechargeable batteries
Can operate via cable
Cons
Cannot utilize EQ with the 3.5 mm jack
Substandard virtual surround sound
Sound quite muffled
SteelSeries Arctis 7 Wireless Overview
The SteelSeries Arctis 7 wireless gaming headset has a relatively sober and serious look thanks to the combination of materials and texture, but it also benefits from good durability and a pleasant fit. The earcups isolate sound decently and provide a good balance between comfort and tightness.
Some users noticed an increase in delay when using the surround sound function, but apart from that, the headset has a 10-meters wireless operating range and works as expected. While in the sound department, these gaming headsets require several adjustments using SteelSeries' proprietary software to improve bass and treble quality.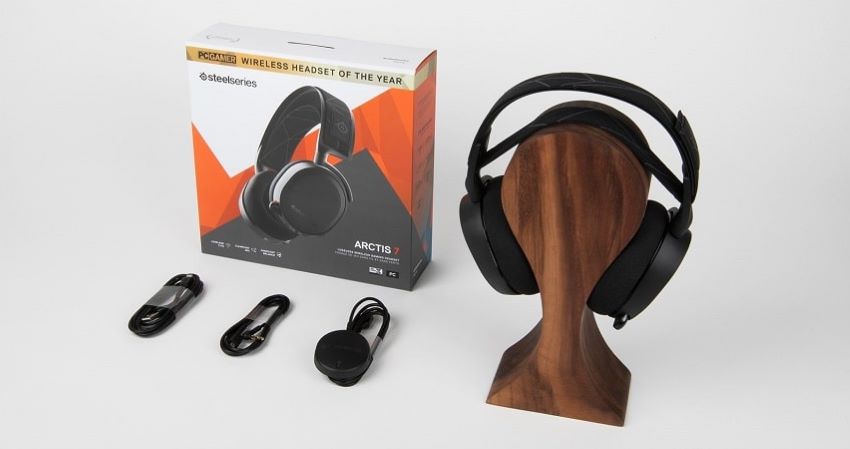 Package
Arctis 7 is equipped with a detachable microphone, a cable with 3.5 mm jack, a Micro-USB charging cable and the wireless transmitter.
Design & Ergonomy
In the composition of Arctis 7, Steelseries uses many different materials, all of which increase its durability. The headband is made of steel, and the rest of the unit is made of high-quality plastic. The lining is soft and padded for a soothing effect. All of this gives the headset a more sober look, alienating those pursuing attention-grabbing pursuits.
For those who like to enjoy freedom, however, Arctis 7 is a perfect choice. And if you like to play games on the go, Arctis 7 can also be passively connected to a gamepad or compatible mobile device via a 3.5 mm mini-jack.
We noticed that Arctis 7 is slightly different from its predecessor of the same brand. For example, this time, there is a smooth, solid steel frame around Arctis 7 that we haven't seen in other gaming headsets. The shape of the frame is curved and slightly flattened at the top.
These headsets provide a pleasant fit, especially for small heads. Some people with bigger heads may feel a bit of pressure. However, if you have an average head, SteelSeries Arctis 7 shouldn't bother you.
The headphones' passive isolation is similar to Arctis 5, with a nice balance between comfort, isolation, compression, immersion, and breathability. The earpads are comfortable and pleasant, and the softness and breathability are very noticeable.
People with large ears will find Arctis 7 troublesome to wear. The small distance between the ear and earcup's drivers also doesn't help in this matter. Thus, comfort will depend on the person wearing them. Nevertheless, there is no problem in most cases as far as we know, and we consider these gaming headsets to be quite pleasant.
All basic controls are located directly on the gaming headset. The left headset has volume control and a button to turn the microphone on and off. The right ear has a similar button, buttons to adjust the volume between games and calls, and buttons to turn the headset on and off. The various controls are straightforward and intuitive. However, it would be nice if the control wheel wasn't too easy to turn, so I could control the volume better.
Bluetooth & Technology
Arctis 7 is very easy to use and install thanks to its discreet lighting and sound display. We supplied a small wireless transmitter/DAC from the brand, which connects to the PC/MAC/PS4 via the USB jack. This transmitter has a 3.5mm mini-jack and a line-in output. For example, a pair of speakers can be connected to the mini-jack output, and a second input is used to connect a smartphone or other device.
When the battery is low, you can still use headphones when they are plugged in. This feature is very handy and does not interfere with games and conversations, and the micro USB to USB cable allows you to use it. Thanks to the battery, the headset can provide about 24 hours of autonomy, making it ideal for long trips.
It also has a small LED on the power button on the headset and a battery indicator that works in conjunction with the computer software. We also liked that the wireless connection works well within signal range (10 meters) and doesn't lose connection; besides, it has a 12m wireless working range
The headset comes with the trusted SteelSeries Engine software on your PC (Windows and macOS) to help you set up the headset. This easy-to-use software allows you to take advantage of other features on your computer. In addition to the software, the headset comes with DTS Headphones:X Virtual Surround, a small 5-band equalizer, and a dynamic compressor. All settings can be adjusted simultaneously.
Microphone
Arctis 7 has a retractable bi-directional microphone with ClearCast technology. It is the first on the gaming headset market and provides the user with a unique experience. The microphone has a red light that indicates whether it is on or off.
The Arctis 7 microphone follows the success of its predecessor, recording sound well and transmitting it clearly. The microphone also reduces background noise, in case you're in a very noisy area. With this microphone, you won't be disturbed by background noise every time you speak.
However, if you want to avoid plosives (for example, when you pronounce the letter P) or breath sounds, be careful not to place the microphone too close to your mouth.
Sound Quality
The sound production is intriguing, but you'll be required to equalize certain frequencies to find the right balance between bass and treble levels. If you don't adjust the frequency response, you'll find that the sound is muddy and the bass is too pronounced.
You'll also find that the driver isn't overreacting, which means the overall performance isn't as nice as it could be. The equalizer can help balance the situation. Unfortunately, adjustments cannot be made via the 3.5 mm mini-jack.
If you connect the headphones via USB or wireless, you can lower the bass slightly and raise the center slightly. This way, the masking effect will disappear, and your sound will be more transparent. You will also find that the application does not provide an acceptable frequency range and does not work well with your music.
Therefore, the slightly "tight and metallic" feeling in the high frequencies cannot be fixed. We didn't expect the best sound rendering in terms of virtual surround sound, but we were disappointed with the virtual surround sound. Therefore, we recommend staying in the stereo mode to get a better feel for the headphones.
Conclusion
In the end, we can only conclude that the SteelSeries Arctis 7 headset is a good gaming headset that provides a pleasant sound experience. Clearly not the best sound quality that gamers can find in a gaming headset, but also not as disappointing as its virtual surround sound feature provided by the DTS Headphone:X 2.0 technology with multi-channel streams.
Nonetheless, for those who love SteelSeries products and enjoy their unique appearance and ergonomy, as well as the comfort provided by the ski goggle headband, for greater efficiency, you can somewhat mask the flaws in sound response by using an equalizer to restore the balance of sound reproduction.
Pros
Intelligible recording and speech capability
Overall comfortable
Rechargeable batteries
Can operate via cable
Cons
Cannot utilize EQ with the 3.5 mm jack
Substandard virtual surround sound
Sound quite muffled