When choosing between over-ear headphones and in-ear monitors for your personal or professional audio needs, there are many factors to consider. This article briefly cover the basics of the two types of headphones, it then compares them and, so you can better decide whether over-ear headphones or in-ear monitors are right for you.
If you haven't heard of the term "over-ear." It means a set of headphones that covers your ears entirely. When one takes a look at the actual physical construction of over-ear headphones and IEMs, this is how they're built:
In-ear monitors don't have ear cups. Their size is smaller than over-ear headphones, affecting the drivers' dimension and the distance between your ear and the drivers. The isolation and comfort quality is also different. In IEMs, because the earphones sit inside your ear canal, it creates an airtight seal resulting in better isolation. The weight difference between IEMs and full-size over-ear headphones is also massive.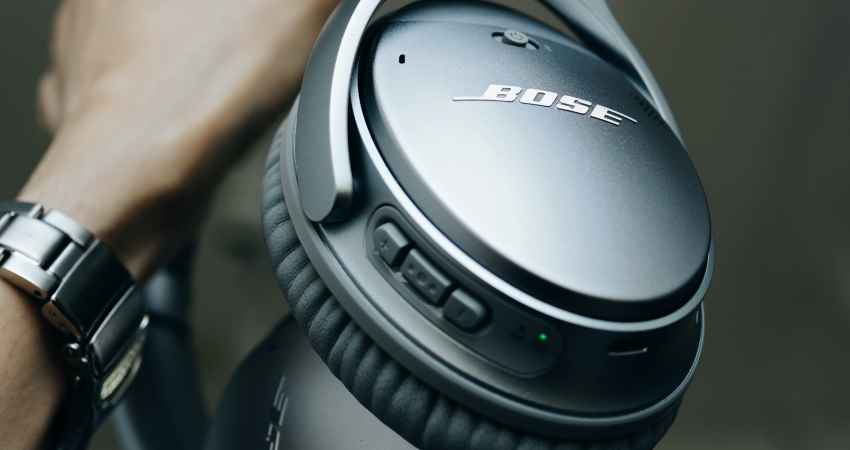 What are over-ear headphones, and who are they best suited for?
This section outlines the main reasons to buy over-ear headphones and the aspects that make one over-ear type of headphones better than another.
Over-ear headphone—definition
What are over-ear headphones? Over-ear or supra-aural headphones are headphones you wear on top of your head, not around or behind the neck, and envelop your ears with sizeable ear cups. The ear cups are connected via a headband with a metal or plastic structure that provides rigidity and strength.
The over-ear shape in headphones is a design that provides high-quality sound and comfort, especially if you're wearing them for long durations. Due to their size, they tend to be bulkier and heavier than IEMs and include more advanced technologies.
Who are over-ear headphones best suited for
To really understand what makes some headphones better than others, you need to know what they're ideal for. There are a few reasons why over-ear headphones are better than IEMs.
Studio applications
Headphones designed for extended use—over-ear headphones offer the highest quality sound reproduction in various applications. They provide excellent isolation, which is beneficial for when you need to concentrate on a task that requires your full attention, such as recording or monitoring.
Closed or open headphones, which one is perfect for you? — The choice between closed or open headphones comes down to comfort and the type of sound you want. Depending on your requirements, you may want closed-back over-ear headphones. These are perfect for recording soundtracks, playing video games, or listening to music. They block out external sounds, letting you listen to your personal music with high quality sound. LINK HERE
Full-size open-back headphones are better for mastering and mixing as they provide a more balanced sound, high fidelity, and well-articulated sound without any loss in sound definition. In short, over-ear headphones with open design are perfect for musicians who want clear sound without any distortion or muddiness to add the last touches to their tracks.
Productivity applications
Comfort is critical when listening for an extended period, whether for editing a video or streaming gameplay on Twitch. With some over-ear headphones, you're able to listen in comfort for hours and get the most accurate sound quality as well. In general, over-ear headphones have better imaging, resolution, and soundstage than IEMs and provide good bass.
The most common over-ear headphones are mainstream headphones and then studio headphones. These are ideal for studio and music production applications and video editing because they offer that linear and uncolored sound that helps you hear how your recording sounds on the final product.
For the most part, over-ear headphones are better for productivity applications and gaming. They provide:
Excellent sound quality.
Comfort.
Decent passive sound insulation.
A design that allows you to focus on what is essential without any distractions.
Travel and office
Over-ear headphones with Active Noise Cancellation (ANC) are suitable for traveling or working out because of their noise-reduction effectiveness and comfort. Most headphones with ANC don't have that extraordinary sound quality you get from a quality mid-range audiophile headphone, but they're enough for a casual listener.
The most common ANC headphones are cheap and sacrifice a lot of sound quality, but if you want to get a quality pair for the lowest possible price, pick these and never look back: Anker SoundCore Life Q25. They offer the best active and passive noise reduction.
Over-ear headphones provide comfort for extended music listening periods or podcasts while on a train or in the office. A lightweight set of over-ear headphones with large ear pads is comfortable enough that you can practically wear them all day without feeling any sort of discomfort.
The only problem with travel and office over-ear headphones is that they are not as compact and discreet as a pair of in-ear headphones. Most people don't like to be seen in public with headphones on, which gives you the option of wearing a pair of wireless in-ear headphones to go unnoticed. While ANC headphones are generally good, some IEMs offer better sound isolation through passive sound attenuation only. Plus, you don't need batteries for them.
Cambridge Audio Melomania 1+ is one of those exceptional quality in-ear headphones. The sound quality is excellent for the price, and the passive sound reduction is only beaten by the Etymotic and a few other IEM models.
---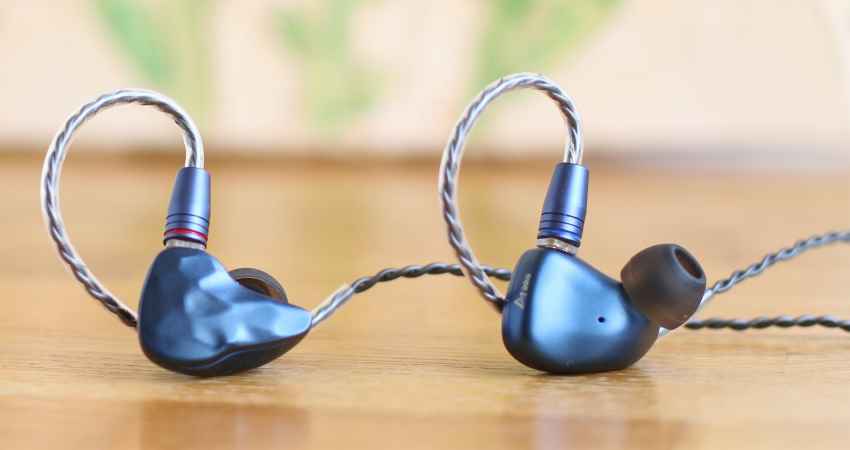 What are IEMs, and how are they different from over-ear headphones?
This section explains what in-ear headphones are, the main differences between IEMs and over-ear headphones, and what makes some people prefer one over the other.
Definition
What is an In-ear Monitor (IEM)? In-ear monitors or in-ear headphones are headphones that you wear inside your ear. They're professionally tuned for studio monitoring applications that come in various designs, from earbuds to custom-made earpieces, both in-ear and around-the-ear IEMs. They have a unique and compact design that helps them provide excellent sound isolation and noise cancellation.
Over-ear headphones vs in-ear monitors—Main differences
The debate between in-ear and out-of-ear headphones is not as clear-cut as it seems, especially when it comes to mobile music listening. The main differences between these types of headphones and how they can affect your enjoyment are discussed below:
Listening duration
If you plan to use your headphones for professional work or gaming, it's best to opt for a pair of over-ear headphones unless you have a specific need for IEM, such as high noise isolation or portability. Over-ears are more comfortable to wear, and you can enjoy longer listening times in terms of hours.
Over-ear headphones are also healthier as they don't stick in your ears, and the drivers are farther away than in-ear monitors.
High cost
If you're looking for the kind of high-quality sound you'd expect from an audiophile-grade device, a set of IEMs is costlier than a pair of over-ear headphones that sound just as good. While some people have tried disputing this repeatedly, the fact remains that most typically associate in-ears with low-quality products or amateur use only, which is not true at all.
Portability and versatility
On the other hand, over-ear headphones have a trade-off with their bulkiness and lack of portability or connectivity when it comes to quality sound. IEMs are more portable and versatile; thus, they come with connectors that work with mobile devices and aren't too power demanding, even in the case of high-end IEMs, as opposed to many professional studio over-ear headphones.
Whether it's jogging or commuting to work, the last thing you want to worry about is the weight of your headphones. Over-ear headphones are more durable than in-ear headphones and are designed not to put pressure on your ears during physical activity. But most are not water and sweat resistant and do not stay securely in place on your head while you are on the move.
Monitoring and critical listening
In-ear monitors can also be used for critical listening, requiring a more neutral sound response. Drummers, DJs, and musicians find in-ear monitors great tools for onstage monitoring. That said, IEMs are not outdone, especially high-end models that use professional-grade components and technology.
Advantages of in-ear headphones (IEMs) compared to over-ear headphones
By opting for in-ear headphones instead of over-ear headphones, you can enjoy some things that would otherwise be difficult to appreciate with over-ear headphones:
Dynamic sound: Balanced Armature (BA) in-ear monitors or in-ear monitors with hybrid drivers give you dynamic sound that reveals the details of the music. Some inexpensive BA in-ear monitors can do better than regular over-ear headphones. But only to a certain extent, as the difference is not always present and having multiple drivers can affect the sound quality through channel imbalance or missing frequencies, as reported in old threads on hi-fi.org https://www.head-fi.org/threads/multi-drivers-iem-suck.685723/.
Noise reduction: in-ear headphones offer exceptional sound reduction. It's well known that in-ear headphones are the best in attenuating outside noise, as they get deep into your ears and provide a good seal.
High volume: Having a high SPL (Sound Pressure Level) is one of the advantages of in-ear headphones. They aren't better for listening to music at high volumes than over-ear headphones, but requiring a headphone amplifier is not as likely, as in-ear headphones don't need too much power to play.
Portability: In-ear headphones usually have a small and lightweight body, so you can carry them with you.
Audio accuracy: It's rare for someone to dislike the character that comes from a spacious soundstage, like that of over-ear headphones. But suppose you like sound details and subtle notes. In that case, because in-ear headphones have limited space to produce a nice, well-developed soundstage with good depth, they compensate with their precision, which is where it becomes trouble-free to feel the grain of the music and the subtle notes of instruments.
---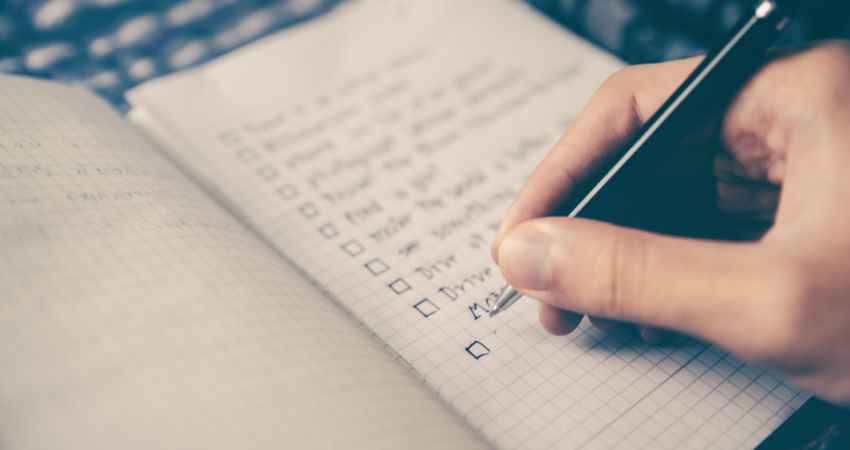 Are there other factors to consider buying an IEM or over-ear headphones?
Both types of headphones come with their own advantages and disadvantages, but there are still other factors that you should consider when choosing between them.
Here is a list of the most important factors:
Comfort
IEMs are much more comfortable and convenient if you move around a lot, while over-ear headphones can provide a more secure and better fit if you take public transport or listen to music at home.
Both have different comfort levels; however, for people who cannot wear a pair of over-ear for an extended period due to the tension caused by the pressure applied on their skull. In this case, IEMs have an advantage over over-ears because they are lighter and can be worn for a longer time without feeling like they're going to fall off.
The clamping force exerted by over-ear headphones depends on the ear pads' surface contact area, slider adjustment, headband adjustment, and ear cup shape. In contrast to this, IEMs have tiny rubber or foam ear tips that don't exert any force on your ears. 
Frequency range
The frequency range of the sound produced by the headphone drivers determines the range of reproducible sounds. A broad frequency range is more often found in open-back headphones, while closed-back and IEMs have a smaller range. A broad frequency range can give the impression of a wide soundstage and add more depth to the music, especially if the sub-bass is emphasized.
If you like listening to music with clear and precise vocals, then an IEM might not be the best option for you because these can be lacking in this regard. But an open-back over-ear headphone can produce good results for most people.
High-end headphones, be it over-ear or in-ear monitors, with planar magnetic drivers, can be more expensive and offer fantastic sound quality and a wide frequency range that's always nice to have. Balanced armature IEMs are also a thing and can offer superb audio performance.
Price
Although IEMs tend to be more expensive than over-ear headphones, the overall price can vary greatly depending on the quality and materials used in their construction. IEMs are usually much cheaper to produce than over-ear headphones because they are smaller and don't require a large amount of padding, but small drivers limit the overall quality of the sound.
If you want to buy good-sounding IEMs, ensure the drivers are bigger than 5–6 mm and make sure it has a broad and balanced frequency response curve and is made from high-quality materials. Neodymium magnets and copper-cored drivers are highly recommended, as well as high-quality silicone or foam tips for the best sound isolation and comfort.
Portability
IEMs are more portable than over-ear headphones because they can be carried around in pockets and small bags, while the opposite is not valid. One of the main factors determining the overall value of an IEM instead of its over-ear brother.
When buying a pair of in-ear monitors, it's important to check whether they are specifically designed for portable use or studio use. The standard earphones that come with smartphones aren't that good enough for audiophiles, which is why in-ear monitors are created to be used with dedicated audio devices.
With over-ear headphones, a foldable design is vital. A carrying case is also a must-have. When in the same price class, IEMs have trouble competing with over-ears with a foldable design. Nevertheless, wired IEMs have sound-quality advantages over wireless closed headphones with ANC.
When the only thing that matters is sound, circum-aural headphones are ideal. For example, Bose's QuietComfort 35 II wireless noise-canceling headphones are two times more expensive than a pair of in-ear monitors like Cambridge Audio Melomania 1+ or Shure SE215CL and don't sound nearly as good. If you're willing to sacrifice flexibility for the sake of better sound quality, wired IEMs are still worth your consideration.
---
Pros and cons of each style of headphone (over-ear vs. IEMs)
Over-ear headphones:
More comfortable in the long run
Much bigger drivers that offer better bass reproduction
Usually have better treble and overall sound quality.
Are more hygienic as they don't sit inside your ears
Provide a more ample soundstage with instrument separation due to their large drivers.
Heavier construction
In-ear monitors:
Smaller construction; thus, more convenient to carry around. Also, it can be inserted in pockets.
Smaller drivers; so weaker treble response
Most have closed designs with small air vents for good bass
Can provide water and sweat-resistant properties
Many are multi-functional in that you can use them for both music, phone calls, sports, and even gaming or studio monitoring
Do not sit on your head and; therefore, do become tiring as opposed to heavy over-ear headphones
Can filter out external noise much better than closed-back full-size headphones (See Etymotic ER4XR) as they fit snugly inside your ear canal (better isolation)
Suffer from cable microphonics
---
Conclusion
To conclude, if you are looking to buy your first set of headphones or your next upgrade, be sure that you consider over-ear headphones as they are often considered to be more comfortable and better-sounding than IEMs for lower prices. However, keep in mind that if you want fantastic sound isolation in a portable and versatile pair of headphones, IEMs are the way to go.
I hope you found this insightful and valuable. If you have any questions about the difference between over-ear headphones and in-ear monitors or have suggestions on improving this article, please feel free to leave a comment below.
If you enjoyed this article, be sure to read Closed-back vs Open-back Headphones – What's the difference? A popular article that explains the differences between closed and open headphones. LINK HERE