Audio-Technica's ATH-M50X is the most popular recording headphone in the business, with a versatile and complete sound profile for studio recording, a sleek design, and accessory-heavy packaging. These headphones have been rated by professional audio engineers and reviewers for detailed sound reproduction that is generally excellent among other closed-back studio headphones. Nevertheless, they have some drawbacks and slight defects that this article aims to explain.
The ATH-M50x is the best studio monitor headphones for the money, but they're not perfect studio headphones. These headphones have exceptional comfort, accuracy, and detail. Still, their sound cannot be described as perfectly linear, and their bass is slightly emphasized for good tracking of low-frequency instruments.
What this article is about
The Audio-Technica ATH-M50x review is written with a focus on recording performance and user experience.
A complete review of the ATH-M50x consists of several sections: packaging, an overview, its features, sound quality, comfort, design, durability, as well as its drawbacks (what keeps it from being a perfect closed-back studio headphone), and the final verdict.
This review highlights the qualities of these studio headphones for professional studio applications by examining various aspects.
Finally, it discusses whether the Audio-Technica ATH-M50X is worthy of its popularity. Some alternatives to the ATH-M50x are discussed, and arguments are provided as to why the ATH-M50x alternatives are excellent studio headphones.
Overview of Audio-Technica ATH-M50X (Summary for busy people)
If you have a home recording studio and listen to music casually, the Audio-Technica ATH-M50X is excellent for you.
The ATH-M50Xs is marketed as a studio-grade headphone, offering clear and transparent sound. However, they're a few flaws away from perfection for professional use (recording, monitoring, or tracking).
Its sound response is not as linear and neutral as audio engineers need. Hence, the M50X's engaging sound offers a more enjoyable listening experience while still maintaining technical quality.
In the end, the M50X is a fantastic choice for hobbyists, mainstream consumers, YouTube creators, podcasters, and at-home recording.
Audio-Technica ATH-M50X specifications
Type: Recording Closed-back Studio Headphones | Frequency response: 15 Hz – 28,000 Hz | Sensitivity: 99 dB | Impedance: 38 Ohms | Driver size: 45 mm | Driver type: Dynamic | Maximum input power: 1,600 mW at 1 kHz | Connector: Gold-plated stereo 1/8″ (3.5 mm) | Weight: 10 oz (285 g)
Audio-Technica ATH-M50X frequency response graph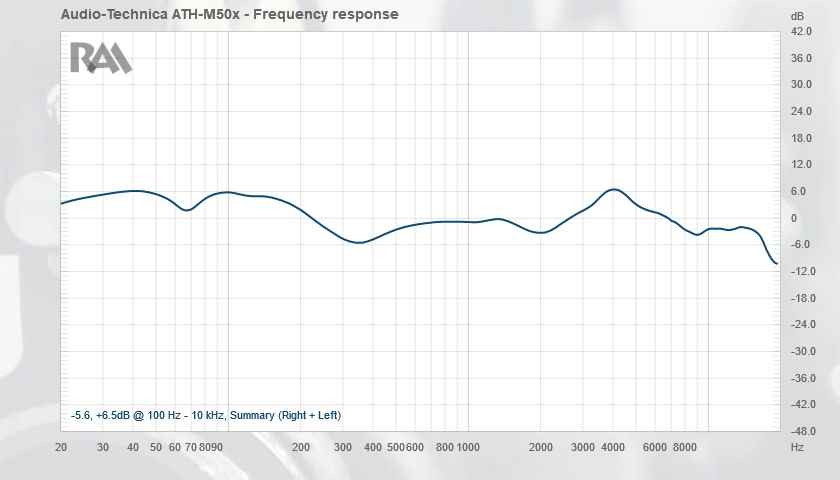 Audio-Technica ATH-M50X advantages
ATH-M50X headphones are pretty comfortable and light, an important factor for a long recording session or studio tracking. But before everything, they have many advantages that are useful for any sound engineer and producer:
Foldable and swiveling ear cups (can rotate to 90°)
Deeper bass response than average closed studio headphones
Highly detailed and accurate sound without being too analytical
Comes with multiple high-quality stock cables
Great sound response for studio work
Versatile sound profile (personal and professional use) with good and punchy bass
Audio-Technica ATH-M50X disadvantages
The Audio-Technica ATH-M50X headphones are fantastic all-around studio headphones with closed-back design, but have some drawbacks compared to other recording headphones:
Average comfort but better than its predecessor
Sound response is not as smooth as the M40X
The extremes of the sound spectrum are poor (too bass-heavy for studio use and lack of clarity in the highs)
Replacement cables are more expensive and of lower quality.
The original ear pads are thin and need to be replaced.
Compared to other headphones, the ATH-M50X suffers from some shortcomings, such as:
The build quality is inferior to that of Sony MDRV6 and Sony MDR-7506.
The earpads are smaller and not as comfy as Beyerdynamic DT 770 Pro.
The sound response isn't as studio-oriented, linear, and smooth as the M40X.
Note: These studio headphones are in the same price category as ATH-M50X or cheaper
Who should buy ATH-M50X
The ATH-M50X from Audio-Technica are perfect closed-back studio headphones for casual or semi-professional use. It can be used in home studio recording setups by indie musicians or semi-professional audio engineers.
The right audience
Content creators—Vloggers and YouTubers who need headphones for video editing, music hobbyist, SoundCloud artists, and users who prefer a well-balanced studio headphone with a bit more vibrant low-end appreciate the M50X.
Music genres
For music listening, the M50X suits fans of EDM, Dance, Trap, and various genres of electronic music, which are now popular. Rock, Hip-Hop, Pop, Indie, Experimental, House, and mainstream styles are also suitable for the M50X. You can think of them as the superior version of Beats by Dre headphones.
Professionals
For serious music producers who want a set of high-quality studio cans for recording in a professional recording studio, the M50X headset is decent. It has some limitations: it could have been more neutral and comfortable to meet the needs of people who record for more than 3 or 4 hours at a time.
---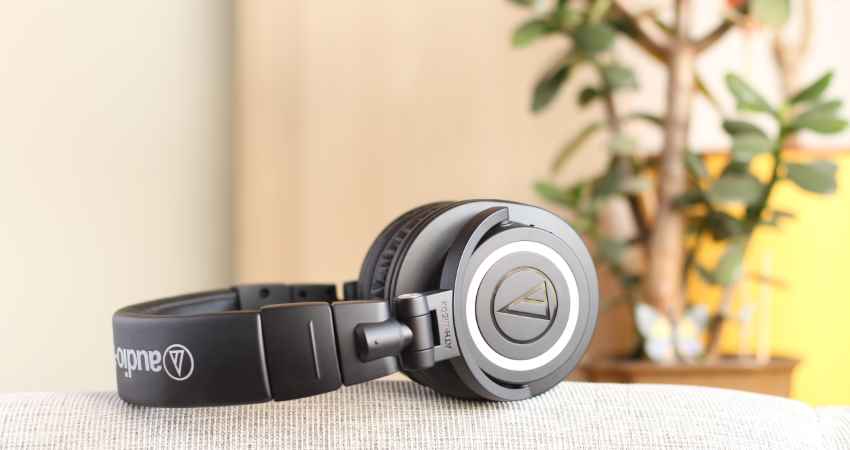 Full Review of Audio-Technica ATH-M50X
Package
Here it's the usual Audio-Technica ATH-M50X packaging, which includes the headphones themselves along with 3 detachable cables:
1.2 to 3 m coiled cable with 1/8" TRS plug
10 ft (ca. 3 m) straight cable
4 ft (1.22 m) short straight cable
The ATH-M50X package also includes a 1/4" (3.5 mm to 6.3 mm) adapter, a carrying pouch made of leatherette on the outside, soft fabric on the inside, and documentation.
The coiled cable is long enough to move around the studio, and the 1.2 m cable is ideal for tracking. The adapter requires a bit of force to snap onto the 3.5 mm TRS plug but stays secure after that.
The included carrying pouch is decent but wears out over time. It's not a solid case that protects your headphones, so the bag is more for covering your headphones than for carrying them.
Design & ergonomics
The studio headphones ATH-M50X have a tasteful black design with a matte texture and metal accents on the ear cups that give them an attractive look. At first glance, the design is slightly different compared to previous models—the all-black headphones ATH-M50 look a bit more modest and straightforward, whereas the size of the ear cups is bigger than those of ATH-M40X.
The sealed ear cups offer decent sound isolation for music recording and don't let too much sound through. We can't say that the ATH-M50X is the best closed-back studio headphones in terms of sound isolation, but an average of -12/15 dB of noise reduction is pretty good.
The ergonomics of the ATH-M50X are good, and it's quite comfortable to wear, but the original ear pads should be replaced with thicker leather ones for a better fit. Also, these headphones have a low clamping force and are lightweight, weighing only 10 ounces, making them easy to move around.
The ATH-M50X is foldable and swivel, which means you can fold the headphones and hang them around your neck or put them in a bag. They're portable, and that's a big plus for studio quality headphones.
Build quality
Frame & hinges
The metal frame of these closed studio headphones provides durability and rigidity. The headband is made of leatherette with ABS plastic hinges, a high-impact material. It's not bad but could have been better if they were made of metal or more durable material since those parts are subjected to stress the most.
The Audio-Technica ATH-M50x headphones have a robust, modern design, making them popular among many musicians and audio enthusiasts. For music recording and other studio applications, the durability of headphones is paramount.
Ear cups & paddings
The ear cups are ABS plastic, covered with soft foam and leatherette cushion. The padding is not dense, and the leatherette's quality is questionable for long-term use.
You should replace the original M50X ear pads with a set of sheepskin earpads from Brainwavz Audio. They're thicker, last longer, and offer excellent comfort and noise isolation.
The headband padding is also made of leatherette. The leatherette material is not of the best quality, but it meets all the necessary requirements. On the other hand, the headband is wide and soft, which allows for a comfortable fit, and it is replaceable.
Cable quality
The ATH-M50x's standard 4 ft cable is very pleasant to the touch and durable, with solid construction. All three cables are covered with rubber, making them tangle-free.
Connecting a cable to the M50X is done by turning the plug counterclockwise in the socket, which is sometimes inconvenient. Granted, the cable doesn't rip out when pulled, but you risk breaking the headphones if you accidentally pull on them when the cable is stuck.
You get three cables as standard, which is nice. But when they need to be replaced, the replacement cables for the Audio-Technica ATH-M50X are relatively expensive, and customers complain about their construction and durability. On top of that, third-party replacements are unreliable.
Comfort
The synthetic leather that covers the ear cups is high-quality and comfortable. Pleasant to touch, soft, and well-padded. The M50X is slightly bigger than the previous model. As such, people with a large head will find the M50X more comfortable than the M40X but still not as convenient to wear during long recording sessions as the DT 770 Pro.
If you want to make your Audio-Technica M50X more comfortable, go for a pair of earpads with genuine leather, such as the sheepskin oval earpads with high-grade memory foam from Brainwavz Audio.
The M50X's clamping force is weaker than that of the M40X, but thicker ear cushions make these closed-back studio headphones super comfortable if you choose to record music with them.
The adjustable headband is made from a soft cushioned material, which helps distribute pressure evenly over the head to make wearing them even more comfortable. However, the headphones are small for people with large heads. The M40X suffered from this as well, and while the M50X has slightly improved on its size, it's still not big enough to comfortably fit people with large heads.
Sound quality
To understand the true value of ATH-M50X's sound reproduction, it's necessary to know why these headphones are so popular and how they perform in casual and professional environments.
M50X's over-hyped sound quality
Regarding ATH-M50X's sound quality, there are two sides: we have high praise for the overall quality of their sound and negative comments and assertions about the absence of audiophile sound reproduction and clarity for a mid-range $150-$200 studio headphone.
Most reviewers have acclaimed the ATH-M50X's sound quality, which is often considered as follows: "excellent for studio recordings and mastering," "very musical closed-back headphones with a neutral tonality," "very accurate, clean sound."
Still, plenty of popular reviewers don't have a baseline for accurate sound reproduction and thus don't even realize the ATH-M50X doesn't have a neutral-balanced frequency response as recording studio headphones ought to have. Not having a reference point, they cannot recognize an accurate sound reproduction.
The sound quality of the ATH-M50X is indeed over-hyped, but it remains a good quality headphone for monitoring with a decent sound response. Its sound is more appreciated by mainstream consumers, but in the audio industry it is an above-average closed-back recording headphone.
Studio use
Professional audio engineers have noted the ATH-M50X's "warm" sound and "strange, high" highs. Thus, the ATH-M50's sound signature forms a "U" shape that emphasizes the extremes of the audio spectrum.
When looking at ATH-M50X's tonality and frequency response, a dominant peak at 4000 Hz (mid-treble) is noticeable, which gives it a loud and bright high end. Studio engineers usually like ATH-M50x's flat and neutral 200 to 3000 Hz range, which is best for voice recording. For tracking air instruments, female vocals, and strings, the ATH-M50X is good, but harmonics are not always accurately represented.
The Audio-Technica ATH-M50X are good recording headphones with fantastic acoustics for recording vocals. The M50X is explicitly designed for studio recording and cannot be used for mixing, mastering, or field recording. And if you are to use them in a professional studio recording, they're best at recording vocals, guitars, drums, and piano.
The M50X is one of the finest closed-back headphones for recording, but keep in mind that it is not the best for tracking low instruments. Slightly sharp highs can be a problem when recording rock or metal, but most headphones have a similar issue; I'm talking about the MDR 7506, DT 770 Pro, ShureSRH840—the best closed-back recording headphones. They all experience a slight sound pressure increase between the 3 and 7 kHz range.
General use
ATH-M50X's sound is accurate, detailed, and has a good frequency response for casual use. The M50X performs better than Beats headphones, which is why these headphones received so much attention from the public. They can be used in a wide range of applications: music listening, gaming, home recording. Still, they aren't great for commuting, mixing, and mastering or critical listening.
ATH-M50X has an excellent frequency response that's slightly above the mainstream standard. For example, most conventional headphones have excessive bass in the sensitivity range between 20 Hz to 200 Hz and uneven treble response. The ATH-M50X stands out from the crowd by offering quite a balanced sound reproduction that doesn't seem to be too dependent on a particular part of the sound spectrum.
Why does ATH-M50X has no bass
If you're coming from a headphone like Sony's WH-1000XM3, the ATH-M50X doesn't feel as bass-heavy as the community says it is. This is because the XM3 has 12 dB more bass than the M50X, which is excessive, muddy, and overshadows the sound spectrum. Thus, the sense of sound is distorted when you get used to the extreme bass. In fact, the M50X has enough bass, and for studio recording, it has more than required.
The above is just one example, but consumer headphones generally have excessive bass, and they sound unnatural. As a result, you may get a different sense of what bass headphones should sound like and why the ATH-M50X may not be as bass-heavy as you thought.
Alternatives to the Audio-Technica ATH-M50X
ATH M40X: Compared to M50X, it's a much cheaper recording headphone with a closed design, has a more linear and smoother sound response but struggles to provide the comfort of ATH-M50X for long recording sessions
Sony MDR-7506: This is one of the most rugged studio headphones since 1991 that recording engineers prefer to use. Its flat sound response and grainy, revealing sound are big pluses for a closed-back recording headphone.
Beyerdynamic DT 770 Pro 32 Ohms: The DT 770 Pro has bigger earpads, superior comfort, and mid-range reproduction with perfect linearity and detail. The vocals are incredibly smooth, making recording vocals an effortless job
AKG K361 & K371: For professional use, these are better recording headphones than the M50X and have a balanced frequency reproduction from bass to lower treble. Thus, they're fantastic headphones for tracking bass
These four closed-back recording headphones are fantastic alternatives to the ATH-M50X studio headphones. Some share similar qualities, while others perform better at tasks where ATH-M50X struggles.
Audio-Technica ATH-M50X FAQ
Can I use the ATH-M50X headphones for mixing?
No, the Audio-Technica ATH-M50X isn't a mixing headphone, and its acoustic characteristics are not suitable for mixing. Its bass is too strong and does not have a perfectly flat frequency response. Mixing headphones need an utterly neutral sound profile with no distortions, which closed-back headphones suffer from in the low-end of the spectrum.
What are the best use cases for ATH-M50X?
The M50X is a fantastic headphone for recording vocals and casual music listening. You can use them for mobile listening as they have low impedance and are not power-hungry devices. They are not suitable for music listening on the go but can be thoroughly enjoyed at home. Their decent sound insulation also makes them good headphones for use in noisy environments and listening in the office at your desk.
In short, the M50X is a versatile headphone and can be used for both casual and professional use without a headphone amplifier.
Are they bass-heavy?
The ATH-M50Xs have a good amount of bass and are somewhat boomy for a sound engineer. The bass has a good foundation for mainstream consumers and is not overdone but may not be enough for some, especially bass heads.
They play deep down to 15 Hz and don't mask the mids, but they're also not particularly clear and transparent like open audiophile headphones. Overall, they are a significant improvement over regular headphones and a fantastic deal.
Are the Audio-Technica ATH-M50X good for gaming?
A gaming headphone requires good sound isolation, complete frequency range, accurate sound response, and precise imaging, which the Audio-Technica ATH-M50X headphones possess to a degree. As such, yes. The M50X is a good headset for gaming.
A large soundstage and accurate imaging provide great positioning accuracy for gaming. While closed-back studio headphones don't have the same acoustic characteristics as open-back headphones, they're still excellent for distinguishing sound sources and separating them in a game.
Are ATH-M50X worth it?
Yes, the ATH-M50X is a studio headphone worth buying. Even though you see them praised by famous YouTubers and are over-hyped, they are still a serious pair of headphones worth your time and money and useful for numerous applications.
When you search for reviews of the ATH-M50X, you'll encounter many people who have grown accustomed to conventional headphones and don't like the bass response of the M50X or over-the-top audiophiles who listen to high-fidelity headphones in the $500 to $1000 price range and complain about it or compare it to open-back headphones.
If you ignore the noise and subjective comments, the ATH-M50x should prove to you why it is a headphone worth buying.
Conclusion
The Audio-Technica ATH-M50X is a closed-back studio monitoring headphone with a wide frequency response from 15 Hz to 28,000 Hz, decent sound isolation, a balanced and accurate midrange, a sturdy construction, and good overall comfort despite the standard thin ear pads.
In the end, the hype of these headphones may be too much, but the ATH-M50X are still viable recording headphones that offer good monitoring and recording quality. It is let down by bass and treble clarity. However, we're talking about a mid-range headset that can't do everything perfectly – but excels at recording vocals in the studio booth, podcasting, and home recording.
If you have an Audio-Technica ATH-M40, there is absolutely no point in upgrading to an Audio-Technica ATH-M50X. However, if you want headphones for general use and occasional home recording for your personal work, the M50X is an excellent choice. And if you're not happy with it or want something similar, look into the alternatives.