The term "high-fidelity" describes audio equipment that reproduces music more purely and accurately than ordinary stereo headphones. It's an essential quality for audiophiles who value sound quality above anything else. But there is more to high-fidelity headphones than just exemplary sound reproduction. So let's get into the details of the subject and explain what high-fidelity headphones are and how they differ from ordinary headphones.
What are high-fidelity headphones?
High-fidelity headphones are devices that reproduce sound accurately and faithfully to the original. They are specifically designed to provide the listener with high-quality sound, perfect sound reproduction, and excellent sound clarity.
Unlike regular headphones, high-fidelity headphones lack functionality, eccentric features, wireless communication, modern design, and innovative surround sound technologies. They are classic devices that focus on the quality of sound alone and excel at it. Similarly, unlike studio headphones, hi-fi headphones are geared towards enjoying music and are not the most comfortable for long-term studio use.
High-fidelity headphones can be divided into two main types:
Open-back hi-fi headphones
Closed-back hi-fi headphones
Both Hi-Fi headphone designs are responsible for unique acoustic characteristics, which is why open and closed headphones are worlds apart and why it is important to understand the differences between open and closed headphones, which are best explained in a previous article.
Open-back headphones are preferred by audiophiles and monitoring engineers, while closed-back headphones are preferred by casual headphone users and professional musicians for the recording.
Music-oriented entertainment devices
High-fidelity headphones are designed for audio enthusiasts, not audio engineers. As such, HiFi headphones are purely entertainment devices for the avid music lover.
Timbre, tone, sound character, and transience are aspects often overlooked by those who want to enjoy music through cheap, conventional headphones and are highlighted by audiophile headphones as the best.
The musical appeal of hi-fi headphones and their manufacturing prowess are easily recognizable. In contrast, studio headphones attempt to be precise in design and are less expensive, more portable, easier to use, and more comfortable when used in a studio environment.
Stereo audiophile headphones for home use
High-fidelity headphones are intended for listening to music at home and nowhere else. They're generally not portable, have balanced connectivity, aren't comfortable to carry around, and require a proper headphone amplifier. So you can't take them into a coffee shop or walk the Santa Monica streets without any inconvenience.
However, not all high-fidelity headphones are intended for home use. Wireless Hi-Fi headphones imply a few things you need to know about; first, many music lovers use them for their daily work and listen to music on the way to work; second, they indeed offer the least value and the weakest sound, but they are versatile and meet the need for high-quality sound.
If you want the best models, Bowers & Wilkins PX and Beyerdynamic Amiron Wireless are two of the most noteworthy wireless high-fidelity headphones to buy.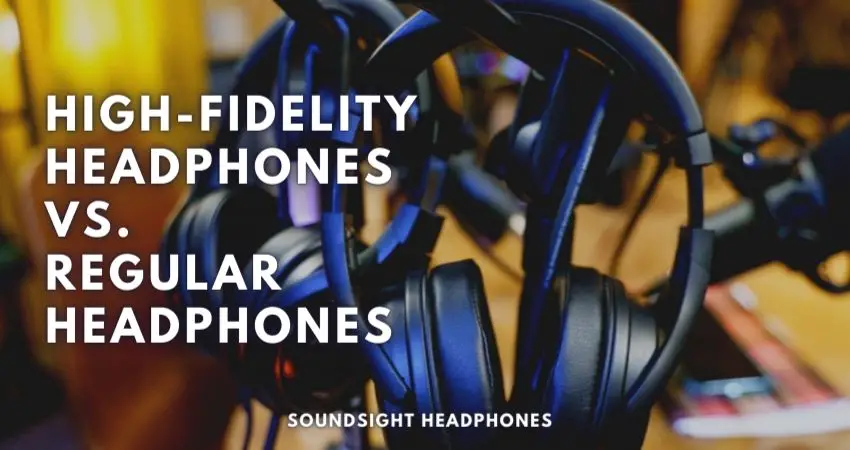 Hi-Fi headphones vs. consumer headphones
The name "high-fidelity" was given to this type of headphones because they were once considered the pinnacle of audio technology. However, to better understand the value of HiFi headphones, let's compare them to consumer headphones.
Main differences between high-fidelity and consumer headphones
Compared to consumer headphones like Beats by Dr. Dre, the sound quality of high-fidelity headphones is far superior and incredibly more accurate. Even when compared with the ANC flagships of Bose and Sony, hi-fi headphones come out on top with exceptional musical character.
The former category is for people that seek a more detailed sound reproduction and prefer listening to music with a purpose. They seek clarity and subtlety, not necessarily volume or functionality. They are designed to do one thing and do it exceptionally well – provide the listener with pristine sound reproduction.
The latter is the most common type of headphones that are used by a majority of people. They have mass appeal and flawless functionality and are incredibly popular due to their ease of use, functionality, and many other factors.
The main differences between high-fidelity headphones and other headphones are best highlighted by providing a brief description and the advantages and disadvantages of both types of headphones.
Pros and cons of each type of headphone
Hi-Fi headphones
In order to achieve high-fidelity sound reproduction, a high-fidelity headphone should have the ability to produce very subtle sounds which other ordinary headphones can not. As such, high-fidelity headphones have several benefits for which they are the preferred choice for music lovers and audiophiles. LINK HERE
Pros of high-fidelity headphones:
They provide an authentic sound reproduction.
They're finely designed and often handmade for sound accuracy and comfort. Manufacturing quality is even more impressive in higher-end audiophile headphones
The design is geared towards sound quality and audio experience.
Drivers are made with great attention to detail; generally, the best drivers are built with diaphragms made of titanium, aluminum, and beryllium
The quality of materials is exceptional most of the time.
Some HiFi brands provide a lifetime warranty for drivers (ZMF, for example)
The disadvantages of high fidelity headphones are:
Price – High-end high-fidelity headphones are on the more expensive end because of the better materials' quality and the more expensive components and speakers. Replacement parts are also costly to purchase and difficult to find.
Weight – In general, they are not as light as regular headphones and may feel heavy to some people. On the positive side, you may build a strong neck as a result.
Size – Unlike regular headphones, high-fidelity headphones usually do not fold. Often, they have balanced cables and can tangle easily.
Depends on a reliable headphone amplifier. Although high-fidelity headphones are of great value, the quality of the sound depends in part on the output power of the amplifier used with them. Therefore, it is always recommended to use an amplifier to get the best sound quality.
Regular headphones
Consumer headphones can be found almost everywhere, from supermarkets and audio stores to online places like Amazon, eBay, or Facebook. They are usually inexpensive and make minimum efforts to provide good sound or build quality as long as they bring a profit.
Unlike high-fidelity headphones, regular stereo headphones are limited by their acoustic properties, dynamic drivers, colorful tuning designed for consumer use, high distortion, and poor transient response. They don't have a long lifespan and generally tend to deteriorate quicker than high-fidelity headphones, which are made to last decades.
Compared to serious high-fidelity headphones, consumer headphones have some advantages:
They are less expensive, more widely available, and offer a greater variety of products
Consumer headphones are more comfortable and convenient to use as they are less tiring on the ears due to their lighter weight.
Their sound quality is good enough for most daily activities (as long as you don't listen too loudly)
Versatility – They are easier to carry around, and you can use them for most activities, such as gaming, movies, sports, working out, or at the office. They have many features, such as noise reduction, wireless music playback, low latency for gaming and movies, etc.
Cons of regular stereophonic headphones:
While cheaper, the value is not as high as that of high-fidelity headphones
They're not durable and break easily in time from frequent use. Most also cannot handle being stepped on or multiple accidental drops onto a hard surface.
Sound quality is not as satisfactory as hi-fi headphones, suffering from sound distortion, poor frequency response range, lack of precision and clarity, average dynamics, and artifacts.
Other differences between HiFi and regular headphones are:
Some less obvious differences are:
The sound fidelity is better in high-fidelity headphones with electrostatic transducers than in those with planar or dynamic drivers, as the sound response is more organic and cleaner. The bass, midrange, and high frequencies are well-developed, clear, and rich.
High-fidelity headphones like the ZMF Vérité have excellent artistry, making them an aesthetically pleasing and imposing piece of equipment to display in your home.
Audiophile headphones are built to the highest standards and meet personal needs, as opposed to conventional headphones that satisfy a broad range of users. They are often custom-made and handcrafted to obtain the required sound quality and specific characteristics you want.
FAQ about Hi-Fi headphones and conventional headphones
What makes a pair of headphones "high-fidelity"?
What makes a pair of headphones high-fidelity is their ability to reproduce music with exceptional fidelity and precision. Clean music reproduction is an unavoidable requirement. High-fidelity headphones represent a close approximation of the music of the original recording; as such, high fidelity refers to the ability to reproduce music with great accuracy, subtly and without deviating from the original source.
Why do people buy high-fidelity headphones?
People purchase high-fidelity headphones because they can reproduce the music of their choice with the greatest fidelity possible while retaining the "organic" feel of the music.
They want to hear the music as it was initially recorded by the artist, without any form of sonic modification or distortion. While high-fidelity headphones don't playback music identically to the original recording, they can reproduce its essence and impress through melodic timbre and spectacular precision.
Should I buy high-fidelity headphones or regular headphones?
For the best quality sound, buy a pair of high-fidelity headphones. However, if you're not worried about the quality of sound and would have a versatile and more functional pair of headphones, any wireless ones are fine.
In the mid to high-end segment, high-fidelity headphones offer much better value than regular headphones; however they're not as fashionable and functional.
Conclusion
There are many differences between high-fidelity headphones and headphones for general use. High-fidelity headphones exceed the needs of most users, offering exceptional audio but little to no functionality, but they are not for everyone. Regular headphones are more practical, sound more fun to the untrained ear, and are often created for a broad range of consumers with different needs. So it all boils down to your own preferences and priorities.