Audiophile headphones are unlike the headphones that people normally listen to music. Sound quality is imperative, and audiophiles would never settle for anything less than the best. Hi-fi headphones live up to their reputation, but buying a pair of wireless headphones may not be the best idea unless you know a few things about buying wireless audiophile headphones first.
This article highlights several things that you need to know about before buying a pair of wireless audiophile headphones and what to look for in a high-quality pair of wireless headphones if the cons don't bother you.
5 Things to know before buying high-fidelity wireless headphones
These are the 5 aspects you must be aware of before buying a high-fidelity wireless headphone:
Audiophile wireless headphones lack value
Lossy Bluetooth transmission, not lossless
Inconsistent connection at high bit-rates
Sound quality falls short of expectations
Wireless headphones are limited to closed-back models
These problems occur with wireless headphones, but they are more common with high-fidelity headphones for reasons such as higher bandwidth requirements.
Audiophile wireless headphones lack value
Good-quality wireless headphones are expensive and rare to find. They don't offer the same quality and value as regular wired audiophile headphones.
If you're looking for an audio solution that aims for the ultimate audiophile experience, you have to be willing to pay for it.
Money may not be an issue for you, but investing a few hundred dollars in a pair of high-fidelity wireless headphones only makes up for the shortcomings of wireless headphones.
In general, for the price of wireless audiophile headphones, you can get headphones of similar value for half the price or even less. The only real advantage of wireless hi-fi headphones is better functionality and greater versatility.
Lossy Bluetooth transmission, not lossless
At the time of writing, there are no lossless Bluetooth codecs. Apple's ALAC, Sony's LDAC, and Qualcomm's aptX HD are lossy Bluetooth technologies with some shortcomings. They can provide lossless audio transmission, but not consistently. They also don't offer a true high-definition experience, as they don't provide CD-quality digital audio (or uncompressed, lossless digital audio).
"So. In any less than ideal situation, it will dynamically scale back to 140kb/s to prevent dropouts and glitches. I wonder how 'lossless' that sounds. I mean, at the least, your device will be in your pocket, and there will be some WiFi networks near."

youreadusernamestoo
Bluetooth audio quality depends on several factors, but the main factor is the codec used. For example, the codec is responsible for compressing the audio stream before it is sent over Bluetooth. While the codec compresses the audio, it must also ensure that the audio quality remains high. After compression, any lossy codec introduces some loss into the audio. This is called audio degradation, which varies by the codec.
The problem with most advanced Bluetooth codecs that handle high-speed transfer is that not all devices support them. For example, the ALAC codec is only supported by Apple devices and AirPlay Wi-Fi streaming systems. Also, if a file is encoded in ALAC format, even if it's considered lossless, Bluetooth compresses the file dynamically, resulting in lower audio quality. Even if your audiophile wireless headphones are ALAC-compatible, their performance is not as good as FLAC on a wired audiophile headphone.
Inconsistent connection at high bit-rates
Problems with LDAC and other high-res audio codecs are experienced when trying to stream high-resolution music consistently. It is difficult to enjoy lossless music over wireless because the quality of wireless signals can vary over time and automatically reduce the data rate transfer to compensate for the poor connection and avoid glitches.
When using advanced Bluetooth codecs to stream high-resolution music, wireless audiophile headphones cannot have both a stable connection and high-quality sound. For the best experience, you need to make sure the connection is stable and consistent, but that's not always the case when using wireless headphones, especially when commuting, and other Wi-Fi networks are nearby.
Sound quality falls short of expectations
High-fidelity wireless headphones improve the sound quality of your music over common Bluetooth headphones. But compared to your everyday audiophile headphones, these headphones don't reproduce music nearly as well. The inferior audio quality may not be due to the Bluetooth codec but to other factors, such as the Bluetooth chipset, noise caused by electrical interference, and other components installed in the headset such as ANC circuits, microphones, and batteries.
Depending on the model of wireless headphones you buy, you may experience very good audio quality or not. The version of Bluetooth technology, the distance between your smartphone and the headphones, the audio compression algorithm, interference, and the quality of the music file all affect the audio quality when playing music through wireless audiophile headphones. As a result, several things can get in the way of high-fidelity music playback.
Wireless headphones are limited to closed-back models
There is a shortage of open-back wireless headphones for audiophiles, especially among open-back dynamic headphones. Most wireless headphones have a closed-back housing, as it is more suitable for public use or noise isolation.
When purchasing high-fidelity wireless headphones, your only open-back options will likely be the planar headphones HiFiMAN Deva with BlueMini or a DIY headphone with a Bluetooth transmitter.
As a general rule, open-back designs are not preferable for public use. They let sound through and allow background noise to seep in, which can be uncomfortable for you and others. The advantage of open-back headphones is that the music playback sounds more life-like. The sound loses depth but acquires a greater width of the sound stage.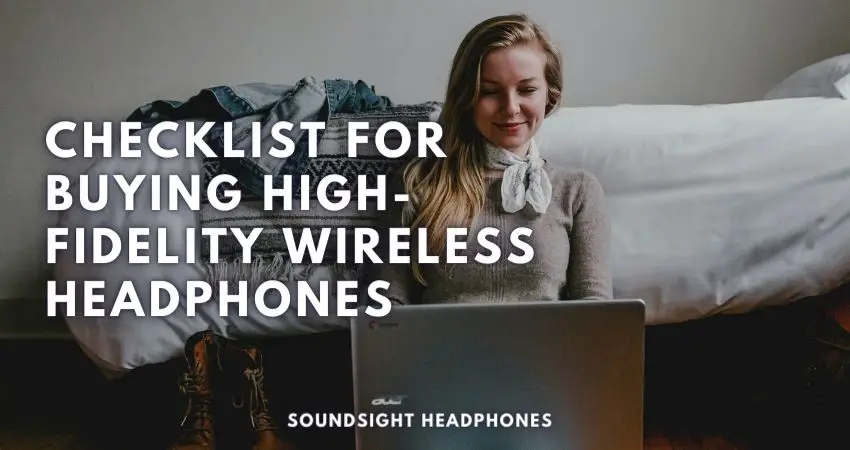 What to look for when buying high-fidelity wireless headphones
High-fidelity wireless headphones aren't plentiful on the market, but that doesn't mean you should blindly buy a pair. You see, many of these headphones have an extraordinary design and a reasonable price, but they may lack some features that are important to you.
There are general characteristics of high-quality audiophile headphones that you should look for, such as drivers size, frequency response range, etc., and then there are characteristics that pertain to high-fidelity wireless headphones, such as the following:
Hi-res Bluetooth audio – aptX Lossless
High-res audio is nothing alike high-fidelity, there's a huge difference between high-fidelity and high-res headphones. With aptX Lossless, ALAC, LDAC, aptX HD and other high-resolution audio coding technologies, headphones are able to receive high-resolution music with audio quality of 24-bit, 96 kHz or even higher. Here's more information on each of these codecs:
aptX Lossless is a lossless Bluetooth codec that will be released in 2022. Currently, there are no wireless headphones for audiophiles with aptX Lossless codec, but if you plan on buying headphones for a long time, you should be on the lookout for headphones with aptX Lossless. The main appeal of the aptX Lossless codec is that it offers CD-quality audio over Bluetooth. It's hard to believe at the time, and if you don't have the patience, there are other options: ALAC, LDAC, and aptX HD.
ALAC (Apple Lossless Audio Codec) is a codec developed by Apple, and it's currently the best high-res audio codec for iTunes users. The important thing here is that ALAC is Apple-only, and it doesn't work on non-Apple devices unless it provides streaming support. If you plan on buying high-fidelity wireless headphones for Apple products, ALAC is the best codec to look at. If you have an Android and want to use high-fidelity wireless headphones, you should look for LDAC or aptX HD.
LDAC is a codec developed by Sony to complement their Hi-Res Audio over Bluetooth. While the LDAC codec doesn't offer the best reliability at its highest setting, and it also doesn't provide CD-quality audio in average conditions, it's still a very good codec worth looking at.
aptX HD is a codec developed by Qualcomm and is currently the most popular codec for high-end wireless headsets with Hi-Res audio, but its bandwidth is limited to 576 Kbps, which is not enough to provide CD-quality sound. Qualcomm advertises its audio codec as being capable of delivering CD-like sound quality. As a result, the main attraction of aptX HD is its reliability and second-best transfer rate of 570 Kbps.
Bluetooth technology version
High-fidelity wireless headphones use Bluetooth technology, and what you should look for in a pair of wireless headphones that offer good sound is up-to-date Bluetooth technology. You shouldn't rush out and buy headphones with Bluetooth 4.0 or 5.0 technology, as it has weaker properties than the newer Bluetooth 5.1, 5.2, and 5.3 versions and slower transfer rates.
While upgrading from Bluetooth 5.0 to 5.1 and 5.2 isn't a major deal, the latest Bluetooth technologies offer better caching, resulting in a higher quality connection with your device of choice, higher throughput, and lower battery consumption. Bluetooth 5.3 is not a must-have technology for wireless audiophile headphones, and it won't have a huge impact on sound quality, so don't worry about it.
Additional features
Buying a wireless audiophile headphone with high-resolution audio encoding and the latest Bluetooth technology is essential. Still, there are other features you need to pay attention to, such as active noise cancellation, voice assistant, and multipoint connection.
Any use of additional technologies affects the sound performance of the headset to some extent, so opting for a headset with these features is beneficial for those willing to trade sound quality for versatility.
Without further ado, let's take a look at some of the additional features that any versatile high-fidelity wireless headphones should have:
Active noise cancellation
High-fidelity headphones with active noise cancellation are a bit of a stretch in this case, but people appreciate their versatility. Active Noise Cancellation is handy for frequent travelers who don't like to give up the audiophile sound on their way to their destination. LINK HERE
The best audiophile headphones with ANC use Feedforward ANC technology, as they are the least prone to noise cancellation and sound quality degradation problems.
Another advantage of ANC Feedforward technology is that it is effective in closed environments and provides overall powerful noise cancellation, but is less effective in open and windy environments.
Voice assistant integration
Voice assistant is a popular and commonly found feature in wireless headphones. This feature helps to reduce the number of buttons on your headphones and allows you to control your music or do certain tasks via voice command.
Most high-fidelity wireless headphones are high-end headphones that include voice assistant such as Siri, Amazon Alexa, Google Assistant, etc. As such, the headphones also feature a hands-free system for seamless communication.
It's rare to find a high-fidelity wireless headset that doesn't offer a voice assistant feature. But if your headphones have microphones for phone calls, ANC, or a transparent listening mode, make sure they also feature a voice assistant.
Multipoint connection
If you plan to use these headphones with your smartphone and a separate Bluetooth device, it's important to consider wireless headphones with a multipoint connection. The ability to connect your headphones to multiple devices simultaneously and switch between them seamlessly is extremely convenient.
For the best all-around Bluetooth headphones for audiophiles, a multi-point connection is priceless. It doesn't affect or improve the fidelity of the music reproduction, but it makes switching between devices and playlists a breeze.
FAQ about Audiophile Bluetooth Headphones
Are wireless headphones good for audiophiles?
High-fidelity headphones have difficulty reproducing accurate sound via Bluetooth; thus, high-fidelity wireless headphones are not suitable for audiophiles due to data compression and technical limitations posed by Bluetooth. It's a different story for consumers who want better music playback and the features of regular wireless headphones.
Wireless audiophile headphones work fine with high-resolution Bluetooth transmission in empty networks. Still, in public places with dozens of wireless connections, they can become destabilized, resulting in a loss of sound quality.
What high-fidelity wireless headphones are the best?
The best high-fidelity headphones offer a full range of sound and high-fidelity wireless technology that meets the needs of users and the features you need for practical use.
Currently, the best versatile wireless headphones for audiophiles are the Bowers & Wilkins PX7 and the Bang & Olufsen BeoPlay HX. These headphones offer high-fidelity sound, an aptX adaptive high-resolution audio codec, the most powerful active noise cancellation of any hi-fi headphones, excellent workmanship, and long battery life (more than 30 hours for both).
If you're looking for good-sounding wireless audiophile headphones, the HiFiMAN Deva delivers clean, crisp sound that rivals multi-hundred dollar audiophile headphones. It provides balanced sound via Bluetooth using a Bluemini transmitter and works with LDAC and aptX HD for high-resolution audio playback. The headphones use planar magnetic drivers, and the sound reproduction is second to none.
Can I make audiophile headphones wireless?
The HiFiMAN Deva uses a Bluetooth transmitter to make the headphones wireless; as such, you can make any audiophile headphones wireless by using a transmitter that encodes and decodes music via high-resolution Bluetooth audio transmission codecs. If you have audiophile headphones without Bluetooth, a Bluetooth transmitter that uses a standard 1/8" jack with aptX adaptive, aptX HD, or LDAC audio codecs to get the best wireless music playback.
Conclusion
As we've learned, finding good wireless audiophile headphones isn't easy, especially if you don't know what to look for and what factors to consider. Having a high price tag and a cool design doesn't necessarily make them high quality or capable of reproducing music with high fidelity. Thus, you need to do your research, or you can check out my list of the best wireless headphones for audiophiles. LINK HERE