Audiophile headphones are those good-sounding headphones that are thought to be expensive and don't attract the public's attention. They're not expensive at all, and even if you're on a budget, don't worry. There are ways to buy good-quality audiophile headphones without spending a fortune.
In this article, I'll teach you how to buy audiophile headphones that offer the best performance for the price. I'll also discuss the top brands making audiophile headphones that offer great performance and value.
Steps to buying the perfect, high-performance audiophile headphones
There are 6 steps to buying audiophile headphones without spending too much money:
Buying high-value audiophile headphones within the ideal price range
Hunting for the most valuable headphones within your budget
Buy hi-fi headphone that don't require an amplifier
Track the prices of headphones and check their price history
Don't buy the cheapest hi-fi headphones
Find good headphone deals in thrift stores
Buying high-value audiophile headphones within the ideal price range
If you want to know how to buy audiophile headphones, the first thing you should do is find out what your budget is. If you already have a budget, you can skip this part. Suppose you don't have a clear, defined budget. In that case, the price range of the headphones you want to buy that offer the best bang for your buck is $100 – $200.
$100 – $200 Audiophile headphones
There are many good-sounding audiophile headphones in the $100 – $200 price range, most of which balance performance and value. The more expensive you go past this price range, the more diminishing returns you get.
Premium, high-end audiophile headphones up to $1000 offer a supreme listening experience, but they are not the best deal for value seekers. Performance-wise, they're the best, but unless you're a passionate audiophile with lots of cash willing to pay for even the slightest improvement in sound quality, you should stick with the $100 – $200 price range.
Hunting for the most valuable headphones within your budget
Having a strict budget is one way to limit the price of a pair of high-fidelity headphones, but it doesn't address the question of value and whether you're getting your money's worth.
Best value IEM headphones under $200
The most powerful type of headphone driver in in-ear monitors is the balanced armature (BA). BA IEMs have multiple drivers, but too many drivers are not always desirable because they depend on the drivers' crossover, configuration, and tuning. Also, having more drivers can influence the position from which bass or other frequency bands are played.
For IEMs or earbuds with multiple balanced armature drivers, having more than 10 drivers in each earpiece is excessive. Having more than 10 drivers in each ear may have advantages (more clarity and detail when well-designed and with an exemplary crossover configuration). Still, it can also negatively affect the sound and distort it at high volumes. In this sense, having 8 or fewer balanced armature drivers is optimal for EMI.
When in doubt, opt for IEMs that use three or four drivers. This is the sweet spot for the number of drivers. In-ear monitors with a few drivers (three or four) tend to perform better than those with multiple drivers (more than ten) since they don't rely on multiple crossovers and complicated tuning. Having IEMs with multiple BA drivers also comes at the cost of excessive midrange and treble emphasis. The bass is more accentuated in in-ear headphones with fewer drivers (BA or hybrid). Compared to dynamic IEMs, the bass is not as strong due to the lack of vents in BA IEMs.
Buy hi-fi headphone that don't require an amplifier
To start off, look for headphones that don't require an amplifier to be played, as this can add to the price when you have to buy one. Audiophile headphones that don't need an amplifier have a low to moderate impedance (less than 50 Ohms), high sensitivity (higher than 100 dB SPL/mW), and don't have planar magnetic drivers since these are harder to drive even due to their nature.
Choose a headphone amplifier over a DAC any time
If you got a good deal on a mid-range audiophile headphone that happens to need an amplifier, don't think twice about whether to buy an amplifier or a digital-to-analog converter (DAC). Buy an amplifier, as it has a more significant impact on sound quality than digital-to-analog converters and is considerably more effective.
Also, be sure to get an inexpensive amplifier. Headphones such as the Sennheiser HD 599, Audio-Technica ATH-M50X, and Philips Fidelio 2XHR don't need much amplification. They can be paired with a low-end FiiO A3 or BTR3K amplifier to enhance the listening experience. You can even skip buying an amp altogether if you listen to music on a PC and have a good sound card or don't use too much volume.
Track the prices of headphones and check their price history
Amazon price trackers like Keepa allow you to track products that interest you and see their price history. This way, you can track the prices of the products you're interested in and see when they went on sale or dropped in price or if the price changes follow a pattern.

As you can see with the Philips Fidelio L2BO, buying timing can make the difference between buying a headphone for $189 or $91. In other cases, the opportunity of buying at the right time might be even more pronounced.
Warehouse deals may also have a big impact on the prices of products. These deals are available for Amazon Prime members, rarely take place, and only apply for a few stock products. Timing these deals is a bit more challenging, but it's well worth the effort, even if you get it in a "Used – Like New" condition. You can also set up a price tracking alert in Keepa to be informed when the price drops below a certain threshold or a deal is announced.

Don't buy the cheapest hi-fi headphones
Cheaper products do not mean better value or better performance. You get what you pay for. Oftentimes, the most inexpensive audiophile headphones are made of low-quality materials and have poor performance and sound. You're also $30 to $50 away from some of the best affordable headphones on the market. For example, instead of buying an AKG K72, you can opt for a Philips SHP9500 or a Sennheiser HD 559.
Generally, I would say that the cheapest audiophile headphones are not worth considering, even if they are only $30, unless they are from Koss. The low price of the Koss Porta Pro and Koss KSC75 is attractive, and the sound quality is surprisingly good. In addition, they are also stylish and have a dark, albeit muddy sound signature that similarly priced headphones can't compete with.
You don't need to spend huge amounts of money to get a pair of audiophile-grade headphones. You will be amazed at the kind of performance of some inexpensive audiophile headphones.
Find good headphone deals in thrift stores
Looking through thrift stores can be a great way to find cheap mid-range and high-end audio gear. Out of all the tips mentioned in the article, this one can help you find some great audiophile headphones and save you the most money. It isn't the ideal way to find a pair of high-end audiophile headphones, but you buy headphones that cost $100-$150 for a tenth of that price, as most sellers undervalue their products due to lack of audio gear knowledge.
You can find some good audiophile headphone deals on Goodwill, Audiogon, eBay, Amazon, Facebook marketplace, and garage sales. There are also lots of headphone manufacturers that have closeout or clearance sales.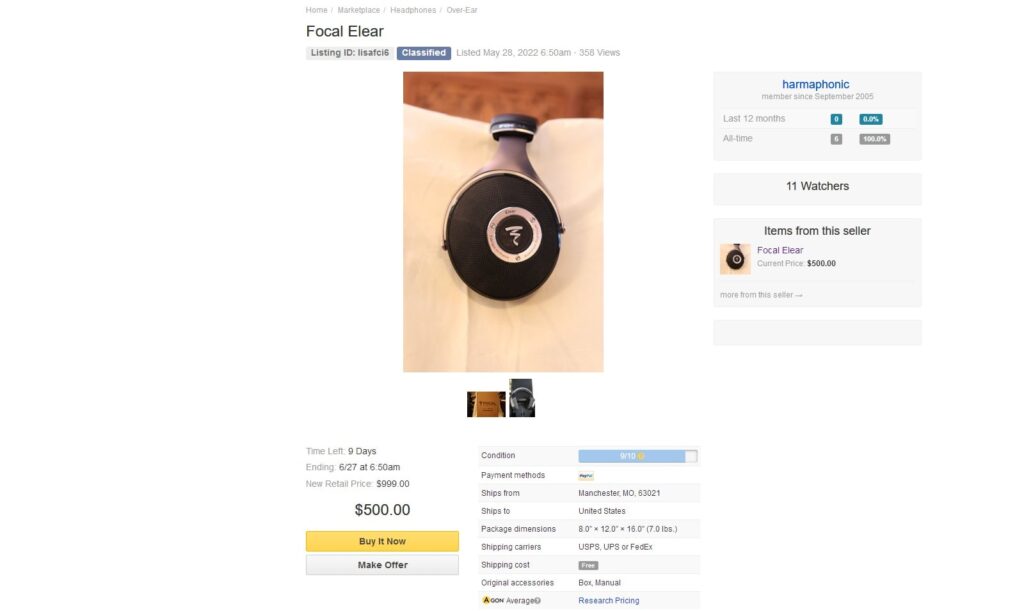 Make a list of the most popular studio and hi-fi headphones that have received thousands of positive reviews and write their price to know how much you can save. Headphones like the Beyerdynamic DT 770 Pro, Sennheiser HD 598, HD 599, Sennheiser Professional HD 280, AKG K72, and K92 can often be found in thrift stores. Visit a local thrift store and look for these or any other headphones of your choice.
If you live in New York City or another major city in North America, you can use online tools to find thrift stores in your area. You can also use this cool website called NYC Vintage Map. It lets you find thrift stores around the NY City and many other stores and facilities. The state you live in may also have a similar website where you can find a thrift store nearby to buy audiophile headphones at a bargain price.
Pre-owned audiophile headphones aren't in the best condition, but since you're only paying a fraction of their original price, you can be more forgiving. If you're lucky, you can find a rare vintage headphone at a bargain price. Or you can hit the jackpot and snap up a Sennheiser HD 800 for $25, as one Reddit user did.
If these guys can do it, you can too:
Value-oriented brands of audiophile headphones
The brands highlighted below offer excellent audiophile headphones for the price. These brands offer much better performance than the regular consumer-grade headphones and are also easy to drive without a dedicated headphone amplifier, adding extra cost to the setup.
Moondrop and Shure also offer high-quality, balanced armature earphones that are worth checking out. If you like dynamic in-ear monitors' more pronounced bass response, Cambridge Audio and Sennheiser offer two interesting and affordable in-ear monitors: Melomania 1+ and CX 300S.
Sennheiser
The legendary German audio company Sennheiser has a plethora of high-quality and long-lasting headphones in its collection. Their budget HD series of headphones are popular for their open-back headphones with detailed sound, warm sound signature, and sturdy build quality.
Good budget audiophile headphones from Sennheiser are: Sennheiser HD 559, Sennheiser HD 569, Sennheiser HD 560 S, Sennheiser HD 599, and Sennheiser CX 300S in-ear headphones.
Philips
Philips is an electronics company that produces a wide range of electronics along with speakers, headphones, and other audio accessories. The company also offers some of the best audiophile headphones for small budgets.
The Philips SHP9500 and the Fidelio X2HR are two of the best entry-level open-back audiophile headphones for their price. Both are excellent in terms of music playback, manufacturing quality, ergonomics, and style. Philips SHP9600 and the Fidelio X3 are two other philips audiophile headphones worth checking out.
AKG
AKG is another famous German audio company. They excel in the audio recording industry and offer a wide range of closed-back and open-back studio headphones under $100 and above. These headphones are suitable for many audiophiles and offer optimal comfort for long listening sessions.
The popular AKG studio headphones include: AKG K92, AKG K72, AKG K240 Studio, AKG K371, and the professional AKG Pro Audio K701, which you can sometimes snatch for a bargain price on Amazon and eBay (approximately $200 when discounted).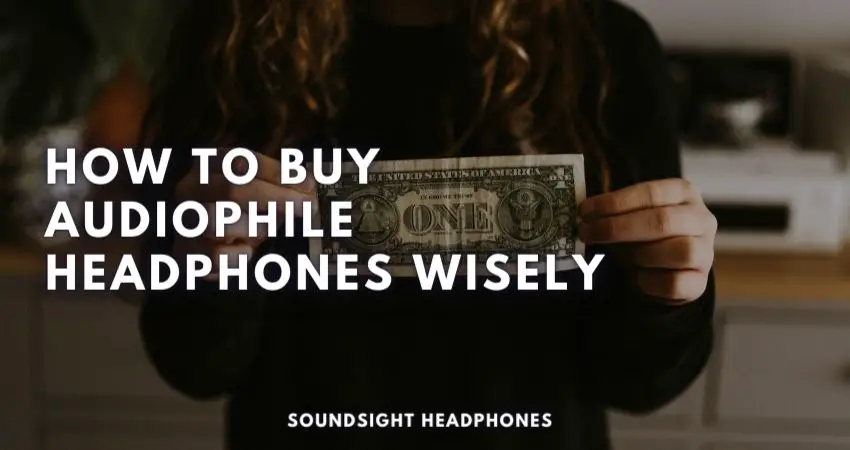 How to make the most of your money when buying audiophile headphones
Buy heavily discounted, pre-owned audiophile headphones from other users or thrift shops
If your budget is less than $200, don't worry about settling for entry-level hi-fi headphones. They still sound good, even if they're not nearly as intriguing as high-end audiophile headphones
Expensive audiophile headphones are not necessary to get a nice sound experience. Sometimes you won't feel a drastic difference between $100 audiophile headphones and $200 ones.
Only buy an amplifier when you have tested the headphones and are unsatisfied with the sound quality. The headphones may be good even without an amplifier, and the improvement may be marginal and not worth spending more money on.
Avoid headphones with wireless or ANC features, as they drive up the price and affect sound fidelity, so you can be sure your headphones deliver the best value and excellent sound.
You don't need to buy a headphone amplifier for IEMs or earbuds, as it doesn't produce huge improvements in sound quality compared to over-ear headphones.
If you bought the headphones you wanted and have money left over for additional audio equipment, prioritize amplifiers over DACs. Amplifiers offer a much better quality/price ratio than DACs.
So, there you have it. All the information you need to buy audiophile headphones without spending a fortune.
FAQ on how to buy audiophile headphones efficiently
How much is it worth spending on audiophile headphones?
Naturally, audiophile headphones are few and far between, and cheap ones don't sound too good. However, not all audiophile headphones are made equal. Some cost as little as $50 and create a powerful first listening impression, like Audio-Technica ATH-M20X, Monoprice Premium Hi-Fi DJ Style, and Superlux 681.
What are the best budget audiophile headphones?
Finding the best budget audiophile headphones is about finding the most suitable for your needs and preferences. You must consider factors such as sound quality, comfort, design, build quality, durability, and price. This guide focuses specifically on headphones under $200.
If you like headphones with a warm sound signature, go for Sennheiser; for analytical sound signature, there's AKG; then there's Beyerdynamic for those who want bright headphones. Also, the best budget audiophile headphones are those that don't set you back too much money and are reasonably priced, like Sennheiser HD 599s and Philips Fidelio X2HR or Sennheiser HD 569 and Audio-Technica ATH-M40X for fans of closed-back headphones.
Do in-ear monitors provide better value than Hi-Fi over-ear headphones?
Over-ear headphones naturally provide better sound quality, thanks to their larger drivers. However, every type of headphone has its pros and cons, so you need to carefully consider your needs and figure out the most convenient type for you.
Conclusion
So, there you have it. All the information you need to buy audiophile headphones without spending a fortune. If you have any other tips that aren't mentioned in this guide that would help others save money when purchasing audiophile headphones, please share them in the comments below.
Thanks for reading! Good luck with your search for the best budget audiophile headphones. You can also read about what makes audiophile headphones different than regular headphones or the difference between Hi-Fi headphones and Hi-Res headphones if you want to learn more about this subject.