Active noise cancellation is a handy way to create yourself a noise-free environment. It is an electronic noise reduction solution for those who travel by plane, train, or commute frequently and spends a lot of time in noise-polluted areas. With that said, it's important to comprehend if active noise cancellation is a necessity to your daily life and, if so, how important is a pair of active noise-canceling headphones to you?
In this article, I analyze whether active noise-canceling headphones are necessary in one's life and if they make music listening to an exceptional experience.
Active noise cancellation: a necessity to a person's daily life?
Not all people need active noise-canceling headphones, especially those who need more effective hearing-protection devices such as construction site workers, factory workers, shooting range visitors, military personnel, pilots, etc.
Before buying an ANC headphone, you must ask yourself if you:
Travel frequently
Work in a noisy office, or
Like listening to music while commuting.
Another way of deciding whether noise-canceling headphones are necessary is to consider the benefits of active noise-cancellation vs. passive noise reduction and know what sounds active noise-canceling headphones can block.
So, is active noise-canceling necessary?
Bottom line, noise-canceling headphones can be necessary for some people who participate in strenuous activities. They're a good way of keeping surrounding noise at a low, comfortable level and can prevent hearing damage. But they are not the best choice for everybody.
When buying an ANC headset makes sense
As we learned in a previous article, active noise cancellation is an energy-hungry feature. As such, active noise-canceling headsets don't make sense to many people, especially when all they want to do is listen to music.
If you're constantly on the go or spend time in relatively noisy environments, investing in noise-canceling headphones can be a good investment. Otherwise, regular wireless headphones offer more value.
Who benefits the most from active noise cancellation
Active noise cancellation is a unique feature in headphones and can greatly impact certain demographics. Specifically, commuters, travelers, and people who work in noisy areas benefit most from active noise cancellation headsets, such as subways, restaurants, or train stations.
People who don't interact with others or don't need to be aware of inputs from their surroundings can also benefit from active noise cancellation. For example, students, home workers, gamers, people who want to meditate or isolate themselves from their surroundings.
Who doesn't need an ANC headphone
A cab driver, flight attendant, or receptionist generally needs to be responsive and communicate with others, so active noise-canceling headphones cannot help them at work. Pilots and aviators don't need consumer noise-canceling headsets either, as they use more sophisticated or task-oriented devices.
Audiophiles, healthy lifestyle enthusiasts who do not tolerate wireless headphones with ANC, people who live in quiet neighborhoods or who do not listen to music on the go don't need active noise-canceling headphones. People who prefer high-quality music without the technology and frills of ANC headphones probably also don't need a pair of wireless noise-canceling headphones.
It's common for people to buy active noise-canceling headphones because they are versatile and all-purpose. However, active noise-canceling headphones may not be necessary if you only plan to use the headphones for occasional air travel and a few hours of work a day. In fact, you can get better quality headphones for less money.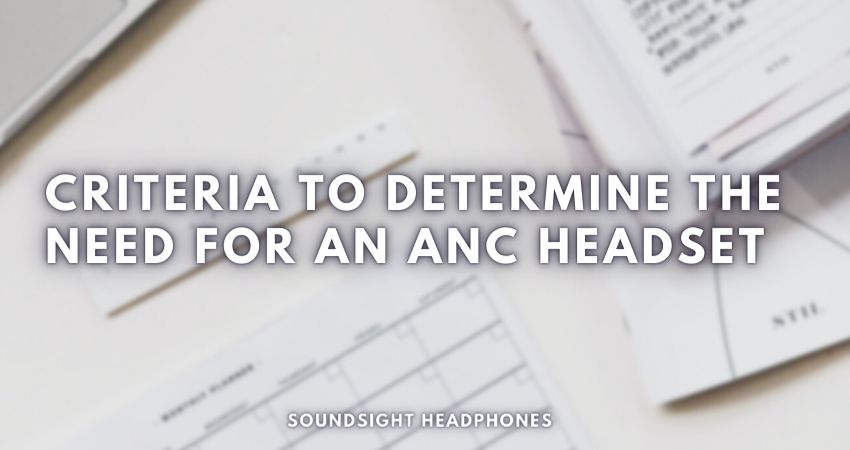 The need for an ANC headset depends on a few criteria
Noise-canceling power and technology
Active noise cancelling headsets are as important in a person's life as their ability to provide a quality user experience, noise cancelling capability, and address an important issue. It all depends on the caliber of the active noise-cancelling technology, how much noise it can reduce, whether it has a voice assistant or Transparency listening mode.
Active noise-canceling technology dictates whether you can listen to music without distortion or receive enough noise attenuation. Some people are fond of hybrid active noise-canceling technology, which are the most powerful type. However, people who like to listen to music don't enjoy the effect hybrid noise-canceling headphones have on bass reproduction. LINK HERE
Environment and location
Location is another important factor to consider when buying headphones. If you live in North America in cities like New York, South of Florida, or Los Angeles, buying active noise-canceling headphones for everyday use is a big deal. If you are located near the east coast of the United States, you are likely to live in a large, noisy city.
On the other hand, people living in rural areas or sparsely populated cities, such as rural Canada or central U.S. states like Wyoming, Montana, Utah, or Nevada, are likely to live in a quiet, peaceful place. In this case, a pair of noise-canceling headphones will only be useful if you work in a noisy office, take public transportation, and regularly visit noisy restaurants and bars.
Wearer's personal preference
Personal preferences play an important role in the need and want for ANC headphones. The style of your headphones and audio performance also play a role. You can get ANC headphones with powerful noise reduction but an awful sound response or a pair with decent noise reduction power but high-quality music playback.
You can get headphones like Apple's AirPods Max to match your Apple ecosystem and eliminate low hum, airplane engine noise, and male and female voices in any environment. Or you can enjoy quality music with a pair of affordable noise-canceling headphones like the Sennheiser 4.50 BTNC.
Alternatively, you can choose a pair of stylish Bowers & Wilkins PXs to get the best of both worlds: powerful noise cancellation, fine craftsmanship, audio quality, and affordable price.
FAQ
What are the main reasons to buy ANC headphones?
For use in a relatively noisy environment. Office workers, commuters, travelers, and students can make good use of ANC headphones because they spend most of their time in environments and activities that require them to divert their attention from distracting outside noises.
Does everyone need ANC headphones?
ANC headphones are beneficial for many people, but they are not essential. People can enjoy music without active noise cancellation and in some cases, even better by listening to non-ANC headphones, as they tend to impact the sound reproduction of your music.
Unless the positives outweigh the negatives, it is advisable to opt for a much more affordable wired headphone like the Audio-Technica ATH-M50X, a high-fidelity open-back headphone like the Beyerdynamic DT 1990 Pro, or the Focal Elegia/Denon AH-D5200 for those who like closed-back headphones.
Are all active noise-canceling headphones expensive?
I understand that you can benefit from a pair of ANC headphones and that you want a high-performance, affordable model with excellent quality. However, an ANC model doesn't have to cost more than $300, or even $200, unless you're looking for a high-end pair of headphones. So not all active noise-canceling headphones are expensive.
Headphones such as the Soundcore Life Q30, Sony WH-1000XM2, Bose QuietComfort 25/QC25, or AKG N60NC Wireless can offer tremendous noise cancellation quality, comparable to high-end active noise-canceling headphones. They are all less expensive than their competitors but offer better than average sound quality for the typical consumer.
Conclusion
Wireless noise-canceling headphones are ideal for those who need ANC technology's convenience and additional noise reduction. Beyond that, it's important to consider various factors and circumstances when considering a pair of premium active noise-canceling headphones. They're expensive, come with many drawbacks, and can even be a bad purchase that doesn't fulfill your needs.
The reality is that for most people, a pair of entry-level ANC headphones is enough, and most of the time, ANC is a luxury that doesn't match a product's real value or ability to play music melodiously. It's a good feature to have, but it's not essential, and it certainly doesn't enhance your audio experience unless you're listening to music in harsh, noisy conditions.