Buying the right pair of active noise-cancelling headphones can be a difficult decision. There are many variables to consider, including brand, features, effectiveness, price, and style. There are a plethora of noise-cancelling headphones on the market and sometimes the most popular ones, like the WH-1000XM4 and Bose QC 45 II, are not the best fit for you.
To keep things simple, I've written this comprehensive active noise cancelling headphones buying guide to help you choose the best noise-cancelling headphones that suit your lifestyle and requirements.
In this article, you'll learn what active noise cancelling headphones are, their capabilities and limitations, the types of technology to look for, the pros and cons of each headphone design, and end with some recommendations and frequently asked questions.
Active noise-canceling headphones: Starting with the basics
Understanding some basic concepts about noise-canceling headphones, such as what noise-cancelling headphones are, how they work, and what their strengths and weaknesses are, gives you an idea of what to look for in noise-cancelling headphones and what to expect.
What are ANC headphones
The concept of active noise cancellation is quite simple: actively eliminate noise by producing a sound that is the opposite of the ambient sound. This phenomenon is known as destructive interference, which plays an important role in noise reduction.
As such, ANC headphones are stereo headphones that minimize ambient noise through the active process of noise cancellation.
How do noise-canceling headphones work
The way active noise-canceling headphones are able to produce noise-canceling signals in such a precise way is due to an active noise-cancelling circuitry involved in the process.
When you wear a pair of active noise-cancelling headphones, the microphone built into the ear cups listens to outside sounds. It then generates an opposite sound wave that causes distortion, essentially eliminating unwanted ambient noise from your environment.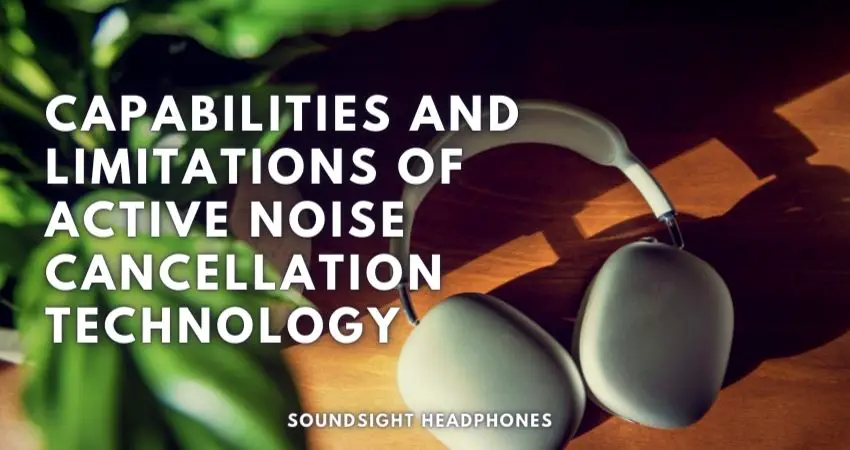 Capabilities and limitations of active noise cancellation technology
Like any technology, active noise-cancelling headphones have limitations and strengths. These often come in the form of white noise, battery drain, malfunctions, sound distortion and, of course, the inability to cancel out all sounds, especially when they are too loud, among other limitations.
The strengths of ANC technology are simple: more noise reduction. They are capable of attenuating aircraft engine noise by about 20 decibels on average. However, active noise cancellation is particularly ineffective against high-frequency sounds, such as the harmonics of human voices, overhead musical instruments, birds chirping, ambulance sirens, etc.
Noise reduction inconsistency is another limitation of ANC headphones. Some sounds are simply too soft for the active cancellation microphones to detect. However, even at full power, these headphones can often detect more unwanted noise than the actual sound they are trying to cancel.
What makes some ANC headphones more efficient than others
One of the factors that influence the overall performance of an active noise-canceling headset is the quality of the microphone and the DSP algorithms. The microphone is used to listen to ambient sounds, record them and generate the opposite sound wave. While most microphones work similarly, there are some differences in quality, number and location, as well as in the way the DSP algorithms are implemented and the speed with which they respond to inputs.
Pros and cons of active noise cancellation
Noise-cancelling headphones have a number of strengths and weaknesses. The advantages of the technology are obvious, but the cons of ANC headphones are less apparent to first buyers.
Advantages of active noise cancelling headphones:
Effective against low frequency background noise, such as snoring, fan noise and voices.
Safe for use at low volumes in noisy environments.
Provides hearing protection in moderately noisy environments.
Prevents tinnitus and hearing loss
Creates a quiet environment for study or productive work.
Disadvantages of active noise-canceling headphones:
Reduced situational awareness
Higher battery consumption
Poor quality ANC headsets may generate buzzing or static sounds.
Ineffective or inconsistent noise cancellation, especially against high frequency sounds.
Not effective against loud noises, such as chainsaws and jackhammers.
May cause fatigue or dizziness if you are not used to using them.
Are more expensive than regular wireless headphones without ANC.
To learn more about active noise-cancelling headphones, you can also read about the difference between passive and active noise reduction.
---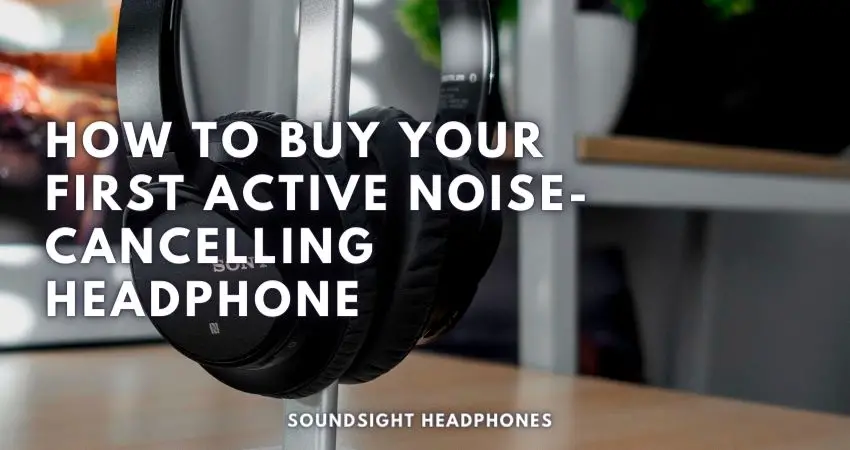 How to buy your first active noise-cancelling headphone
When you buy your first active noise-canceling headphone, it's important to decide whether you want a headphone for noise reduction or an all-around headphone with ANC.
The difference between the two is that the former is designed to attenuate noise to the maximum extent possible, while the latter places more emphasis on sound quality, comfort and user experience, with the ANC being an extra.
Noise reduction headphones
Active noise-cancelling headphones have some problems you need to be wary of. If you're buying ANC headphones for the purpose of noise reduction, here's how to do it right to get the most out of noise-cancelling headphones:
Make sure the noise reduction is effective: Any ANC headphones that attenuate at least -15 dB of noise in the 20 Hz – 1,000 Hz range for over-ear and on-ear headphones and -10 dB noise reduction for true wireless earbuds
Don't interfere with the quality of your music
Not too expensive (anything over $400-$500 offers similar noise reduction to $200-$300 ANC headphones)
Avoid earbuds with ANC in general (their noise attenuation is mediocre).
Here is a list of effective noise-cancelling headphones:
Sony WH-1000XM4
Sony WH-1000XM3
Apple AirPods Max
Bose QuietComfort 45
Bose QuietComfort 35 II
Bowers & Wilkins PX
Bowers & Wilkins PX7
Bose 700
Beyerdynamic Traveler
Sony WF-1000XM4
Bose QuietComfort Earbuds
Apple AirPods Pro
Soundcore Life Q35
AKG N60 NC
---
The only true wireless headphones with ANC worth buying are the Sony WF-1000XM4, Apple AirPods Pro and Bose QuietComfort Earbuds. Everything else offers inferior noise reduction and should not be purchased for that very purpose.
Good-sounding headphones with active noise cancellation
When shopping for good stereo headphones with ANC, the most important aspects are sound quality and the overall listening experience. As such, the best headphones have the following characteristics:
The minimum driver size is 40 mm
It has high-resolution Bluetooth codecs like aptX HD, aptX Adaptive or LDAC.
Does not have hybrid or feedback active noise cancellation (these headphones typically do not have Transparent listening mode)
If it has hybrid active noise-cancelling or feedback, make sure no hissing or white noise is present (check ANC headphones you can use without music)
It has a wide frequency response (a wider frequency range is not necessarily a sign of good sound quality, but deeper bass makes the music more lively).
Don't distort music when using ANC (most headphones' sound distortion increases once active noise-canceling is turned on, such as Marshall Mid ANC)
Here's a list of good-sounding headphones with ANC:
Apple AirPods Max
Bowers & Wilkins PX7
Bowers & Wilkins PX
Beyerdynamic Traveler
Philips Fidelio L3
Apple AirPods Pro
Marshall Mid ANC
When you're looking for either type of active noise-cancelling headphones, you'll sometimes find overlapping ones that combine great noise reduction with an excellent user experience. This is a rare case, but to get to the cream of the crop, I've prepared a comprehensive list of the best active noise-cancelling headphones for you. LINK HERE
Stop buying brands – they don't matter
When you buy active noise-cancelling headphones, the brand doesn't matter. There is a lot of regurgitated advice on the Internet about the importance of buying a well-known brand, and it all makes no sense.
The fact is that even the most reputable audio brands that produce high-fidelity headphones, such as Dali, Sennheiser and Shure, do not make the perfect pair of noise-canceling headphones. Buy a pair of Dali IO-6, Sennheiser Momentum Wireless 3 or Shure Aonic ANC headphones, and you'll see how ineffective and unreliable the ANC system is.
Bose is popular for its active noise cancellation and its reputation for producing good ANC headphones. However, even Bose has falters sometimes, but not when it comes to noise cancellation. Their Bose QuietComfort line of noise-canceling over-ear headphones is known for much of its success, even the QuietComfort earbuds are a big hit.
Sony, on the other hand, while it has some of the best active noise-cancelling headphones (MDR -1000X/Sony WH-1000XM3 & XM4, and WF's ANC line of earbuds), it has some mediocre noise-cancelling headphones. Older models such as Sony WH-XB900N, WH-CH710N or XB910N are examples of weak ANC headphones. Some of them have amazingly low sound distortion and extra bass, but as far as noise attenuation goes, they are horrible.
Choose headphones with an accurate and natural Transparency mode.
Buying headphones with an unclear, fatiguing or unnatural Transparency/Ambiance mode is a waste of money and a bad experience. ANC headphones that can't give you a clear representation of the outside world are a sign of poor active noise cancellation performance.
If the external microphones can't record sounds accurately, the noise-canceling signals are just as likely to be inaccurate and mismatched to the ambient noise they are trying to cancel. As such, a good Transparency listening mode is essential when buying a headset for noise cancellation, as it can make the difference between a good and bad experience.
The Bose QuietComfort Earbuds are an example of high quality ANC headphones with perfect "Transparency" listening mode. Their "Transparency" mode provides a clear and realistic representation of your environment. Unsurprisingly, active noise cancellation delivers exceptional noise attenuation performance of -25dB, which is unheard of in any earbuds and is comparable to some of the best over-ear ANC headphones on the market today.
Types of active noise-canceling headphones
There are three main types of noise-canceling headphones, classified by technology, design, and purpose. Some are effective for use in noisy areas for general activities such as air travel and commuting. Others play music with high fidelity or use the battery more efficiently.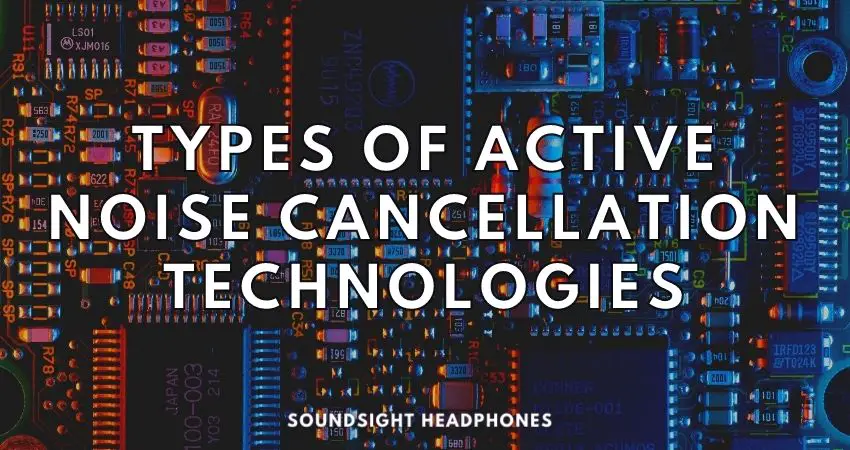 Active noise-canceling headphones by technology
Not all ANC headphones are the same. Different technologies with distinct circuits are used to provide a personalized noise-canceling experience. The three types of active noise cancellation technologies are: Feedforward, Feedback and Hybrid.
Feedforward
Feedforward ANC is the classic noise-canceling technology first used in Bose headphones; these headphones are affordable, effective and don't use overly complicated circuitry. In feedforward ANC technology, microphones are placed only on the outside, pick up incoming noise and allow the noise-canceling circuitry to produce noise-canceling waveforms.
Feedback
Feedback active noise-cancelling headphones have sophisticated circuitry that detects incoming noise as if it were listening from inside the headphones and feeds the information back to the headphones' DSP chip. Feedback ANC technology treats outside noise the same way the listener hears it, but also has the potential to cancel out frequencies that belong to the music.
Hybrid
Hybrid active noise-canceling headphones combine both feedforward and feedback circuitry. They're more expensive and complex than, but offer better noise reduction performance. While hybrid active noise reduction technology solves some problems associated with both feedforward and feedforward ANC, it also has its shortcomings.
ANC headphones by design
There are three main models of headphones: on-ear, on-ear and in-ear. They all have unique features and offer a different approach to the best listening experience.
Over-ear
The enveloping cushions of ANC over-ear headphones offer a comfortable fit while providing the best sound isolation with minimal sound leakage. Their active noise cancellation is also the most effective, making them ideal for noisy environments.
Other aspects such as battery life, sound quality, and comfort are beyond satisfactory. The Bowers & Wilkins PX7 is an example of a well-reviewed over-ear ANC headset.
When you're looking for over-ear headphones with noise cancellation, the market is flooded with options. Quality varies and some features may be lacking, so you can't expect to get everything in one package. Here, even in the higher price range, the chances of buying a headset with poor NAC are high. If noise cancellation is important to you, go for hybrid ANC headphones.
Pro-tip: Stick with B&W, Bang & Olufsen, or Apple for top-quality over-ear headphones with ANC for less than $500. The latest ANC headphones from Sony and Bose are a surefire way to go, too.
On-ear
On-ear ANC headphones are small, lightweight, and portable; they are convenient for travel and transportation and look very sleek. On-ear headphones often offer less noise cancellation because the ear cushions (which contain the drivers) are smaller than those of over-ear headphones and do not offer the best seal.
There aren't many high-quality on-ear headphones with ANC, but if you're looking for a super lightweight option with powerful active noise cancellation, check out the Beats Solo Pro Wireless. It has good noise reduction across the audio spectrum, an Apple H1 headphone chip, good battery life and a voice assistant. In terms of noise reduction, it's by far the best on-ear noise-cancelling headphones.
In-ear
Active noise-cancelling in-ear headphones are the least popular option for noise reduction. They offer average sound quality and poor noise reduction. But they are suitable for outdoor use, are protected against water and perspiration for sports use, and can be used anywhere.
When it comes to noise reduction, in-ear headphones are not the best. They may provide some high-frequency noise attenuation, but their ability to suppress noise at the lower end of the audio spectrum is lacking.
Very few ANC earbuds offer an adequate noise cancellation experience, and they are generally expensive. I'm talking about the Apple AirPods Pro, Sony WF-1000XM4 and Bose QuietComfort Earbuds. Unless you can afford these, only buy ANC earbuds for their convenience, not for the noise-cancelling, or you will be severely disappointed.
Traveling ANC headphones
Good travel ANC headphones offer a comfortable listening experience with minimal background noise. The best models, however, have an ANC system that focuses on attenuating low-frequency noise, such as airplane engine noise, flight spoilers, air conditioners, and people's snoring. These models can muffle unwanted noise and give you a pure listening experience, but don't focus as much on attenuating voices.
For air travel, hybrid ANC headphones like the Bowers & Wilkins PX Wireless and the Bose QuietComfort 35 II are perfect. They're lightweight, luxurious and offer impressive active noise cancellation in the first half of the audio spectrum. The Sony WH-1000XM3 and XM4 are also suitable for air travel, but they're not as comfortable as the QC 35 II and B&W PX.
In addition to low-frequency noise attenuation, choosing a good pair of travel headphones also depends on the features of the headphones and whether you can connect them to multiple devices. If you have a laptop and a smartphone on a train trip, headphones with multipoint connectivity offer an ultra-fluid connection.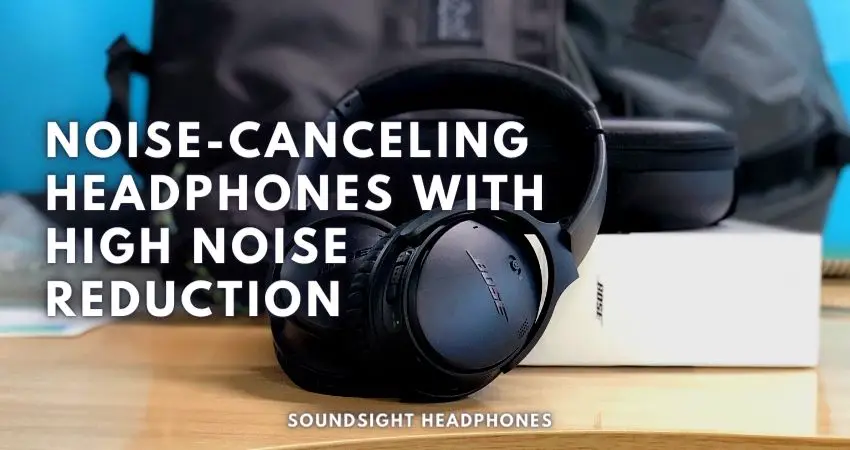 Noise-canceling headphones with high noise reduction
High-end ANC headphones like Apple AirPods Max Wireless or Bowers & Wilkins PX have strong low and mid-range frequency reduction and high sound quality, but their price is far higher than the average Soundcore Life Q30 or AKG N60 NC. Still, if you want a pair of wireless headsets with powerful active noise cancellation, check any of the following: LINK HERE
High-end: Sony WH-1000XM4, WH-1000XM3, Bose QC 35 II, Bowers & Wilkins PX, Apple AirPods Pro Max
Mid-range: Soundcore Life Q30, AKG N60 NC, Sony WH-1000XM2
Entry-level: Soundcore Life Q25, Skullcandy Venue, Samsung Galaxy Buds2
Avoid the following:
Dali IO-6, Sony WH-XB900N, Audio-Technica ATH-ANC700BT, HD 4.50 BTNC, Philips PH805, Sony WH-XB910N, Audio-Technica ATH-SR50BT, Marshall Mid ANC, Skullcandy Hesh ANC wireless, JBL
High-fidelity ANC headphones
When you're looking for high-fidelity noise-canceling headphones or audiophile headphones with ANC, the options become extremely limited. Modern stereo headphones designed for heavy users don't provide super detailed, clear and well-rounded sound. So you'll have to turn to high-end noise-canceling headphones from Bang & Olufsen or Bowers & Wilkins, Apple's AirPods Max or Philips' Fidelio L3. LINK HERE
High-fidelity headphones are not necessarily expensive, but when you want good-sounding headphones with active noise cancellation, money should be no object. Another problem is what to choose; the Dali IO-6 has high-fidelity sound but inferior ANC. As such, you're not always guaranteed a high-quality experience.
Low battery consumption ANC headsets
A headset that doesn't consume a lot of battery power when using active noise cancellation not only offers a long listening session until the next charge, but also has a longer lifespan compared to power-hungry headphones.
If you want an ANC headset with low battery consumption, you're probably looking for a reliable product that you won't want to change anytime soon; a versatile ANC headset that ideally combines comfort and durability, sound quality, some features, and long battery life is what you need.
The Sennheiser PXC 550 II Wireless is a great all-around ANC headset with up to 30 hours of battery life, excellent sound quality, Bluetooth aptX LL codec and fantastic noise reduction.
Other headphones to consider in this category include the Sony WH-1000XM3, the JBL Tune 760NC Wireless, a bass headphone offering 30 hours of battery life with ANC and Bluetooth, and the Bowers & Wilkins PX7 Wireless, which offers incredible audio performance and 30 hours of battery life.
FAQ about purchasing ANC headphones
How to choose the best ANC headphones among so many brands?
There are many ANC headphones on the market, and it's not easy to know which one to choose. However, there is no such thing as a one-size-fits-all pair of ANC headphones. You can go for a high-end headphone or a versatile headphone with ANC.
Are ANC headphones worth it?
Most ANC headphones are not worth the high price tag. However, some are quite effective at blocking out noise. It's not worth buying a headset just because it has active noise cancellation technology. Many ordinary wireless headphones offer better value and performance and have excellent passive noise reduction.
Unless the headset's noise-cancelling is exceptional, or it provides good music playback and reasonable noise reduction, it's not worth the money. Also, whether noise-canceling headphones are worth it depends on the context and environment in which you use them.
What is the most trusted brand of ANC headphones?
Without a doubt, Bose, Apple, and Bowers & Wilkins are the most trusted brands of noise-cancelling headphones. While Apple and B&W don't have an array of choices, their unique noise-cancelling headphones are a surefire winner.
While a wider range of choices may be appealing, Sony only has a few reliable and effective headphones in the ANC category, so it's much riskier to choose and buy a product blindly.
Are different types of ANC headphones better than others?
Yes, over-ear headphones with ANC are far superior to on-ear and in-ear noise-cancelling headphones. They offer better sound isolation and music playback. Not all over-ear headphones perform equally well, but you're likely to buy a decent product with ANC technology if you go that route.
What's the most important aspect in an ANC headphone?
The ability to minimize background noise is by far the most important aspect of any ANC headset. There are plenty of ANC headphones out there with mediocre sound quality, but in terms of quietness, no audiophile headphones can match it. Likewise, if you want headphones that offer good music playback, even the most expensive ANC headphones can disappoint compared to some affordable audiophile headphones.
Conclusion
In the end, whether you're looking for headphones for travel, exercise, or simply to enhance your game in terms of audio quality and noise cancellation, it's impossible to go wrong with the information presented in this guide.
This article covered a variety of brands and different types of ANC headphones, so you can find your ideal headphones without any problems. If you are not pleased with the shortcomings of the noise-canceling headphones, you can read about the differences between active and passive noise reduction to see if headphones with good passive noise isolation are better for you.
If you're particularly interested in a certain ANC headset and need to narrow down the options, ask in the comments below, and I'll do my best to help.